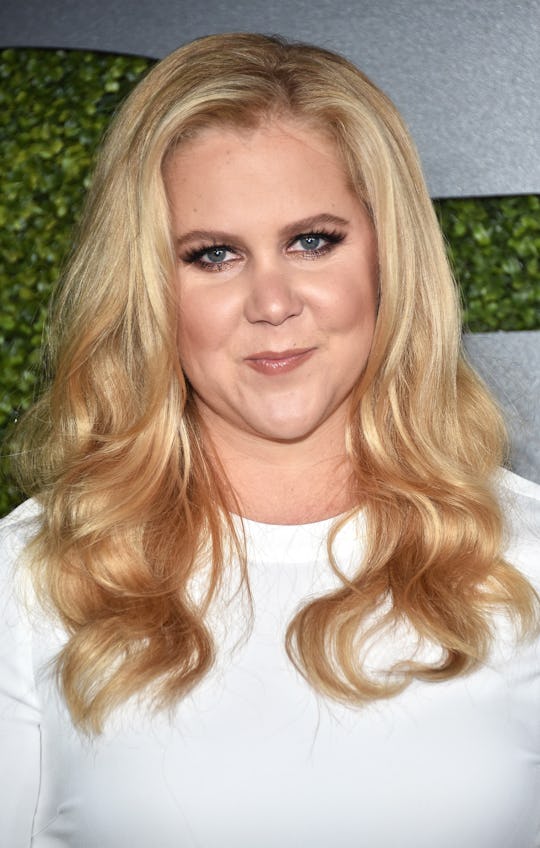 Amy Schumer Snubbed By The 2016 Oscars, & It's Not Shocking But Still Hurts
After losing out to Jennifer Lawrence at the 2016 Golden Globes, there was only one question left to ask: would the incredibly talented and hilarious Amy Schumer be snubbed for an Oscar nomination or would the Trainwreck star get an Oscar nod? The creator, co-producer, co-writer, and star of the series Inside Amy Schumer lost to Lawrence in the Best Performance By An Actress In A Motion Picture — Comedy or Musical. Schumer was nominated for Trainwreck. Shortly before losing, Schumer and Lawrence took the Globes stage to perform their now-infamous comedy routine and, in the process, convinced scores of fans that A.Schu and J.Law should host next year's Golden Globes. (Seriously. If we can't have Tina and Amy, the least the HFPA could do is give us Amy and J.Law.)
Schumer's snub will not doubt ruffle tons of feathers, most of which will stem from the fact that Trainwreck was so beloved by its fans. Though it was hardly the first of its kind, Trainwreck pitted a woman at the center of its story, and that's not something that the HFPA and the award-season circuit as a whole is historically intent on celebrating.
Just after winning the award for Best Actress in a Comedy, Lawrence told press that there would be no hard feelings between her and and the best friend she beat out.
Lawrence said:
She's going to be fine. It wasn't a matter of feeling bad because she's funny and hilarious and will win many things. I just really expected Amy to win. This was very truly surprising for me. I was just really surprised.
When the Golden Globes nominations were announced in December, Schumer called into the TODAY Show to share her reaction to the news on air. Joking that she was calling ex-boyfriends to brag, she told host Savannah Guthrie:
It feels so good. It's like, it really feels good and I'm proud of what I accomplished, but yeah, really, it is more about the revenge. I want to really thank the Hollywood Foreign Press, but more than that, there are people I want to say 'no thank you' to — how much time do we have left on the show?
The snub at this year's Academy Awards isn't exactly shocking, but that doesn't mean it hurts any less. In the comedy field, Schumer is still very much a pioneer. Even though Trainwreck didn't exactly have all the traditional trimmings of an Oscars favorite, it did spark enough interest for Schumer to take home a nomination for a Globe. Yes, she ultimately lost, but the facts still matter: She was nominated, which is, unfortunately, much more than many other women in comedy can say about their films.
Schumer's role in the sex-positive, feminist romantic comedy gave women of all ages a character to identify with and what's more, it gave them a storyline that mimicked the reality of our day to day. More than anything, it was refreshing to see a woman at the epicenter of the story that encompassed so much more than the tired "boy meets girl, girl likes boy" plot. Trainwreck had sustenance: an enthralling familial tension that viewers could relate to, a career-oriented subplot that felt entirely fresh and current, and a sex-positive position on relationships and the people involved them (specifically women) — all with a woman at its helm.
Images: Mike Windle/Getty Images for GQ Magazine, Movieclips Trailers/YouTube