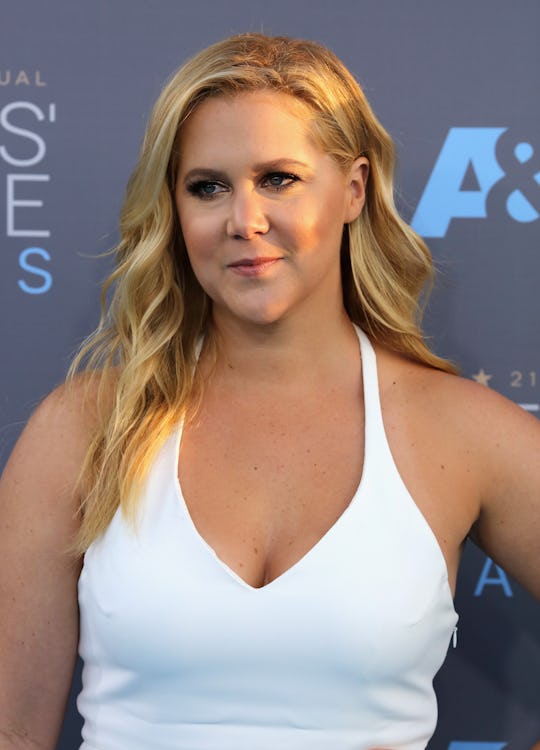 Mark Davis/Getty Images Entertainment/Getty Images
Amy Schumer Speaks Out On Former Writer's Rape Comments & Some People Are Not Satisfied
Over the weekend, a man was accused of rape. Another man, comedy writer Kurt Metzger, unleashed an avalanche of misogynistic sludge on social media, berating women for taking their concerns to the improv theater where the alleged perpetrator performed instead of the police. In the end, though, it's the woman who has employed Metzger who's dealing with the most vitriol for her response to the unfunny debacle. When comedian Amy Schumer reacted to her former writer's rape comments, her impressive feminist cred took an undeserved hit — all because online commenters are determined to make her responsible for a man's actions.
A number of comedy venues banned comedian Aaron Glaser after group of unnamed female comedians approached the Los Angeles branch of the United Citizens Brigade theatre Saturday with accusations that Glaser had raped them. No formal charges have ever been filed against him, and in a since-deleted Facebook post, Glaser emphatically denied the allegations. (Glaser did not immediately respond to a request for comment.)
Enter Kurt Metzger, who was employed as a writer for the Comedy Central sitcom Inside Amy Schumer as recently as June. Upset by the sanctions imposed on Glaser without police involvement, he embarked on a Facebook tirade against the online "lynch mob" he believes wrongfully crucified Glaser (edited for strong wording):
Metzger's comments were tone-deaf and offensive. To be sure, he certainly could have made his point that he views Glaser as innocent until proven guilty without mocking rape victims. But many really, really wanted to know what Amy Schumer had to say about all this. On Wednesday, Nylon reported that Schumer was actively blocking Twitter users who were asking her why she was employing a "rape apologist."
So, on Wednesday, she tweeted about the situation, writing that she is "saddened and disappointed" by Metzger's comments, but still called him a "friend and a great writer."
"Please stop asking me about it," she elaborated in a followup tweet. "His words are not mine."
But in opting not to vehemently denounce what Metzger said sooner, Schumer had already incurred the wrath of online crusaders, most notably Liz Arcury, another female comedian. Arcury tweeted that Schumer had "failed women," for not speaking up the day before Schumer issued her Twitter statement:
And even after Schumer's response, some weren't appeased:
While it is important for women and men to talk about rape, and for both women and men to stick up for and protect victims, Schumer is in no way responsible for Glaser's alleged actions or Metzger's very apparent ones. She does not have to answer for what Metzger said, and she's entitled to say nothing at all, if that had been the route she had chosen. The fact that some are more interested in berating a woman for a man's indiscretions than demanding accountability from the man who has willfully identified himself as pro-rape is its own form of subjugation of women, and it has to stop.