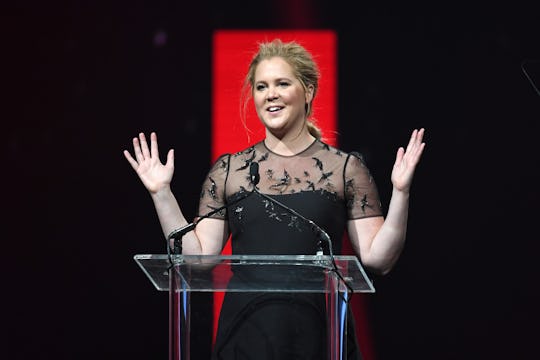 Ethan Miller/Getty Images Entertainment/Getty Images
Amy Schumer's Relatable Thoughts About Having Kids
It's a sad reality that once women hit a certain age and have a partner, people start asking about kids. That's exactly what's happening to Amy Schumer these days. The 35-year-old actress is at the top of her game and has been dating Ben Hanisch seriously for almost two years, so of course, everyone wants to know if she's thinking about making babies anytime soon. Being the comedian she is, Amy Schumer's comments about wanting kids are super relatable and so very, very true.
Schumer has been having to talk a lot recently about moms and daughters, mostly because she's promoting Snatched, a comedy about a mom and daughter on a vacation gone bad, starring herself and Goldie Hawn. But just because she's promoting a movie about moms and daughters doesn't mean that women Schumer's age don't already get asked this question all the time. At least Schumer has a sense of humor about it.
Schumer told E! News at the New York Premiere of the movie that she's thought about having children:
It changes for me sometimes. I'm like, "That would be amazing and I definitely want that" and then other times, I'm like, "I don't know" and then there are so many options — there's adoption, there's your own. I don't know.
She added that she feels like "people get really mad if you don't have a baby." Any woman who's had to explain to an inquiring relative or strangers why they don't have kids "yet" or that they don't want kids likely knows that feeling. Telling people that you're not sure if you want children is a surefire way to stir up some controversy at a dinner party.
Which is likely why her answer has been changing as she makes her way around various events. In an interview with Denise Albert and Melissa Musen Gersteise, who also refer to themselves as "The Moms," Schumer was a little more decided on the idea. She confirmed that her "uterus is empty," currently (good to know) and that she would like to be a mom someday. "I've worked very hard to not be a mom," she said. "But I'm 35, I'm sick of thinking of myself, you know? It's just like, enough Amy, who cares?"
What it really sounds like is Schumer just isn't sure if she wants a family, which is absolutely fine, by the way. Lots of women don't know if they want children, while others have been picking baby names since they were a tween. (Again, both of those options are fine.) Plus, it makes sense that Schumer isn't sure about her future when it comes to motherhood, because she is on fire right now.
After years of doing standup as a comedian, Schumer's past few years have seemingly been one success after another — like writing and starring in her own show, Inside Amy Schumer and writing and starring in movies like Trainwreck and Snatched (yea, she co-wrote that one, too). So kids may not have been on her mind until more recently for good reason.
If Schumer does end up having kids someday, that's all well and good, and if she doesn't, more power to her. Hopefully once all the press for Snatched is done, she'll be able to sit back and think about all her options — kids, no kids, adoption, or just being a kick-ass godmother — in peace, without anyone getting mad at her.