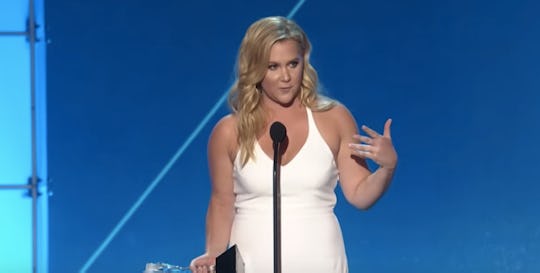 Amy Schumer's Critics' Choice Awards Speech Calls Out Those Who Said Her Pirelli Photo Was "Brave"
One of America's boldest comedians tackled Hollywood's serious problem with body shaming during an acceptance speech. At the Critics' Choice Awards, Amy Schumer described size discrimination in Hollywood that limits women's opportunities, and, true to Schumer form, she did it with lighthearted humor and sass. Schumer accepted the Critics' Choice MVP Award, according to Jezebel.
Writing and starring in Trainwreck and Inside Amy Schumer, the comedian has been in the spotlight all year for her strong take on women's issues. But at the Critic's Choice Awards, she allowed her message to take center stage. In between thanking the people who supported her career, Schumer thanked her trophy for covering up her stomach, which is says is the reason she has had to write all of her own jokes, according to a YouTube video of her speech:
Thank you for this trophy, covering the reason I had to write my own shit. If you're an actress and you have this area right here, you have to write your own stuff if you want to get it made. This is where I get really 'brave' as everyone said after my Annie Leibovitz photo. That's what you want everyone to say when a naked photo of you goes viral. You want them to say, 'What a brave photo.' You're like, 'Thanks, wow, thank you.'
The propensity to call nude photos of Schumer, which were taken by Annie Liebovitz for the 2016 Pirelli Calendar, "brave" illustrates exactly what Schumer is talking about. When a woman doesn't fit Hollywood's standard of beauty, a decision to show skin is labeled courageous instead of sexy. Schumer is recognized for her talent as a writer and performer, but her opportunities are limited by the distressing importance of size. But she didn't get down about it; rather, she called Hollywood out in a hilarious way.
And this isn't the first time Schumer has talked about her struggle for acceptance in an industry where one's weight is heavily criticized. Rolling Stone reported that during an appearance on Today, Schumer shared why she promotes empowerment through personal style. She described how her Trainwreck stylist helped both Schumer and her sister, according to Rolling Stone:
It was such a gift to be given to learn how to dress to feel good about myself, and that's the gift that we want to give everyone everywhere.
Just before the interview, Schumer hosted a workshop in partnership with Goodwill of Southern California. Together with stylist Leesa Evans, Schumer created Stylefund, an organization dedicated to empowering women through their wardrobes.
Schumer uses comedy to create change. On Inside Amy Schumer, she's taken on everything from the pressure for women to look naturally perfect ("Girl, You Don't Need Makeup") to ageism in entertainment ("Last F**kable Day"). In the interview with Today described by Rolling Stone, Schumer spoke about how her experience entering Hollywood influenced her stand-up special:
I feel like I kinda went underground, like I was doing a story on Hollywood, and like I'm coming out: like, OK, here's what's going on. No one's just naturally thin. Everyone's starving. And just telling all the things I found out in a way that hopefully will make everybody laugh and feel better, which is my goal across the board with everything.
Schumer is brave: not for showing her body, but for powerfully advocating for women as artists and individuals worthy of respect — regardless of their size. She's every woman's MVP and her Pirelli's calendar isn't just "brave," it's sexy.
Image: A&E/YouTube