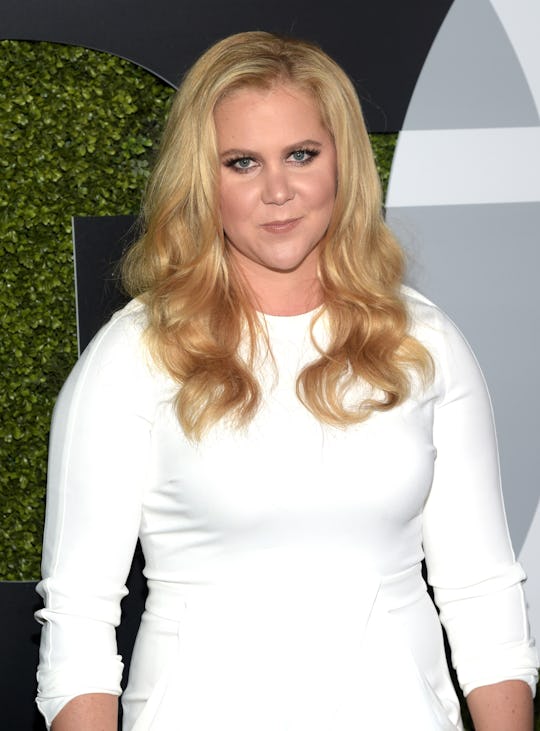 Jason Kempin/Getty Images Entertainment/Getty Images
Amy Schumer Showed Off Her Bare Bump For The First Time In This Hilariously Perfect Photo
In case you missed it, comedian Amy Schumer is pregnant with her first child. Schumer announced the amazing news on Oct. 22, via her friend's Instagram Story about the upcoming midterm elections. And on Thursday, Amy Schumer shared her first bare bump photo.
Shortly after Schumer revealed her baby news, she posted the most relatable photo ever to her Instagram account. "First trimester had me like #soblessed," Schumer captioned a shot of herself sitting down at a table littered with empty plates, one of which had her face in it.
To drive her point home, Schumer included a still from the 1995 film Se7en, a work about the seven deadly sins. You don't have to be an expert about the seven sins to know that Schumer was referencing gluttony with the hilarious side-by-side.
Luckily for Schumer, she has been able to overcome the ups and downs of pregnancy with a little humor. "[I]t's not fun to be pregnant at the same time as Meghan Markle," Schumer joked at a comedy event on Sunday, according to SheKnows.
Schumer also lucked out with her husband, Chris Fischer, who happens to be a phenomenal chef. "I married a chef because I'm a fucking genius," she quipped, according to SheKnows. Can't say I disagree with Schumer's self-assessment here.
Now that Schumer has moved past the first trimester (you're getting there, girl), she's enjoying fun activities with her family and friends. Case in point: on Thursday, Schumer — along with her sister, Kim Caramele, and a friend — went out for a walk. And by the looks of it, Schumer had a great time because she decided to show off her bare bump mid-outing.
Although fans are freaking out over the first bare bump photo, Schumer didn't have too much to say about it. Instead, she simply captioned the shot with a family emoji.
"I love that you're making a human!" someone commented on the photo. "We need more @amyschumer genes in this world 🌎 👶🏼."
"God, I miss maternity pants (you're adorbs!!)" one fan wrote.
"This place is bumpin'!!" another person joked.
Someone else said: "Bump is on point Momma!"
It's awesome that Schumer is receiving all of this love and support these days, especially since she has had to defend herself against critics recently.
Celebrity blogger Perez Hilton, for instance, got into it with Schumer after he referred to her career as "stalled," according to Motherly.
"Hey! Who said my career is on hold. I'm touring all of November and January. I'm working the whole time," she responded, according to StyleCaster. "Please some assume we disappear when we are pregnant. Quite the opposite. Much love!"
Although dealing with this type of backlash can be tough, Schumer does have something incredible to look forward to — her baby. And according to Caramele, Schumer is going to be a very hands-on mama.
"They are going to be UNBEARABLE parents," Caramele captioned a shot of Schumer and Fischer both taking photos of their dog, who happened to be dressed up as a lamb at the time. Too adorable.
Supporters can probably expect more bump photos in the future, as Schumer is pretty open with her fans. But it's important to remember that Schumer will share more pics when she's ready, and that she's under no obligation to fill people in on her pregnancy journey.