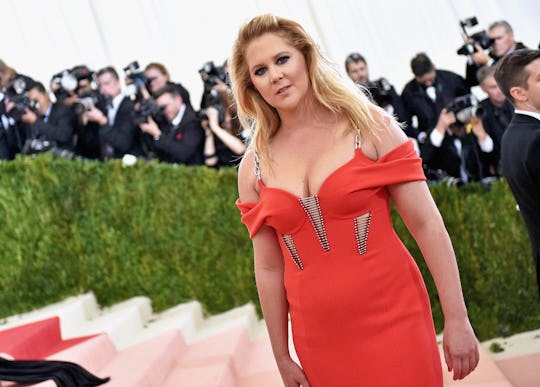 Mike Coppola/Getty Images Entertainment/Getty Images
Amy Schumer's Latest Pregnancy Update Shows How Severe Hyperemesis Gravidarum Is
Sometimes, pregnancy doesn't always go as you envisioned it would. Although social media has a way of making the journey seem like a constant state of bliss and joy, reality can be far from it. Because behind the scenes of those gorgeous bump photos, a mom-to-be could very well be struggling with nausea and vomiting, rampant heartburn, constipation, hemorrhoids, hip pain, back pain, and so much more. These unpleasant symptoms can be so severe, in fact, that they interfere with a woman's ability to follow through with daily obligations. And Amy Schumer's latest pregnancy update reveals how hyperemesis gravidarum is affecting her professional life.
On Monday, Nov. 19, the standup comedian and actress took to Instagram to share her ongoing struggle with hyperemesis gravidarum — a severe form of "morning sickness" — with followers. "Thanks to Newark and Pittsburgh, I'm so happy to be feeling better and I will be able to continue my tour," Schumer wrote, alongside a photo of herself showing off her bare bump. "However doctors orders not to travel cross country yet so I'm sorry that Seattle, Phoenix and Oakland will need to be postponed. I promise to go see you guys and make up the date real soon... The rest of the tour will go on as planned! Happy Thanksgiving!🦃."
As E! Online reported, Schumer was actually hospitalized for hyperemesis gravidarum on Thursday, Nov. 15. "Texas I am so deeply sorry. I have been really looking forward to these shows. I have to reschedule," the expecting mom wrote on Instagram, also sharing a photo of herself lying in a hospital bed. "I am in the hospital. I'm fine. Baby's fine but everyone who says the 2nd trimester is better is not telling the full story. I've been even more ill this trimester." She continued:
I have hyperemesis and it blows. Very lucky to be pregnant but this is some bullsh*t! Sending so much love to the doctors and nurses taking great care of me and Tati! They are cool as hell! And Texas I am really really sorry and I'll be out there as soon as I'm better.
By late Friday, Nov. 16, it appeared as if Schumer was out of the hospital and feeling well enough to return to her standup comedy performance schedule over the weekend, according to People. "I will be doing my shows tomorrow and Sunday!" she captioned a photo of her dog dressed as a lamb.
Subsequent Instagram updates showed the mom-to-be onstage in both Newark and Pittsburgh. That's seriously impressive, considering she was in the hospital feeling like utter garbage — and presumably getting IV fluids due to severe dehydration, which is common for women with HG, according to BabyCenter — just a day before.
If you ask me, the fact that Amy Schumer is remaining so transparent about her ongoing battle with hyperemesis gravidarum is awesome. (You know, even though her struggling in the first place is obviously not awesome.) Because honestly, the term "severe morning sickness" doesn't do the rare pregnancy complication justice. Not being able to keep hardly any food or water down, losing weight instead of gaining it, and being chronically dehydrated is a tad more serious than a typical bout of pregnancy-related nausea. Hopefully, Schumer's HG symptoms will ease up soon — or she'll find a kick-butt combination of medication and diet — so she can experience lasting relief from this debilitating condition.