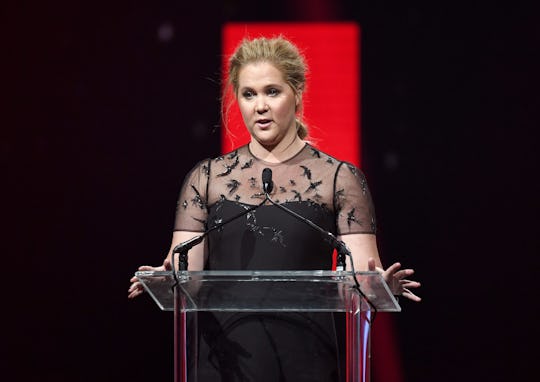 Ethan Miller/Getty Images Entertainment/Getty Images
Amy Schumer's Response To Body Shamers Was On Point
As much as the rise of technology and social media has played an important role in quick and easy information sharing, it has also made way for anonymous trolls to body shame and critique just about anyone. And while celebrities have been under increased scrutiny for years now, social media has made it a lot easier for hateful comments to be seen by women who are just living their lives. And so it goes with acclaimed comedian, actress, and author Amy Schumer. While Schumer has posed in swimsuits before, her latest photoshoot has bewilderingly rubbed some people the wrong way, prompting her to respond with a set of swimsuit photos on her Instagram Story. Unsurprisingly, Schumer's message to body shamers was boldly unapologetic and should be seen by women everywhere.
The May cover star of InStyle was harshly criticized for posing in a swimsuit, and after Schumer's cover went live online last week, online commenters were quick to lash out at the sight of Schumer in a swimsuit (because, of course, every women should look like a Victoria's Secret model, right?). In fact, a swimsuit company even joined in on the backlash, with South Shore Swimwear unleashing some cruel words about the issue as well.
But that doesn't mean Schumer is letting the haters get to her. Saturday, she posted a series of photos of herself to her Instagram Story, proving that she truly is completely confident in herself and her body (and isn't that the only thing that matters?). Schumer capped off the series of pictures — which according to People, included a picture of herself "leaping in the air, riding in a boat and paddle boarding" — with the text, "I feel great. No haters can f with my baseline."
Schumer, 35, isn't new to body shamers online, and hasn't let it impact her confidence too much. In her interview with InStyle, Schumer was effortlessly confident, even assuring readers that she wasn't worried about aging:
I have never gotten anything done because I'm, like, so gorgeous. I'm good-looking enough that I can work in the business. I get enough attention from men that I feel good.
And in her Instagram story, Schumer didn't hold back either. After sharing eight photos of herself rocking different swimsuits, Schumer said, "I feel great. No haters can f with my baseline." And truly, if someone as gorgeous as Schumer still gets heat for being herself, then perhaps society hasn't progressed as much as one would hope.
For its part, South Shore Swimwear declined to apologize for their comments about Schumer's InStyle cover. In a statement to The Boston Globe, the company's owner said:
What happened to the allure, the beauty and the mystique of high-fashion magazines? With the new PC culture anyone and everyone thinks they can be a cover girl swimsuit model and I don't think it's right. . . . It may sound harsh but in my opinion, being overweight is not healthy, it's not stylish, it's not attractive.
Unfortunately, not everyone is as body-positive as the rest of the world. But that doesn't mean Schumer will stop doing her thing. She has never shied away from showing off her body, and these latest comments and photos are proof that the comedian isn't going anywhere, despite what some trolls may think.