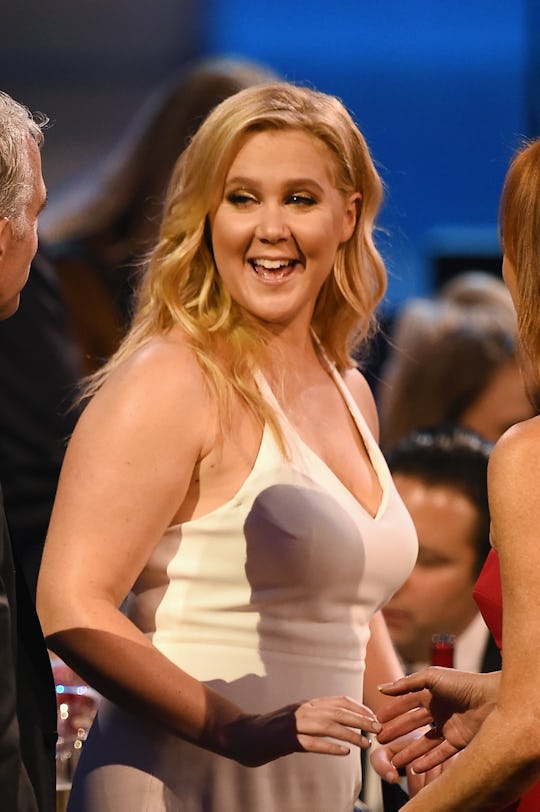 Kevin Winter/Getty Images Entertainment/Getty Images
Amy Schumer Reveals Her First Trimester Is Over With A Sinfully Hilarious Update
Even after the end of my first trimester, I could barely stomach crackers and ginger ale — and many moms have similar experiences with lasting morning sickness. But one celeb mom doesn't seem to be struggling to keep her food down anymore. In fact, Amy Schumer shared a new pregnancy update revealing her first trimester is over and it suggests that she has had no problem eating for two these days. The update comes in the form of an Instagram Story that references a classic film... and the sin of gluttony.
Schumer's photo shows her sitting at a table, face down in a bowl, surrounded by empty plates. Along with her posed pic, the mom-to-be posted a still from the 1995 film Se7en that references the sin of gluttony. "First trimester had me like #soblessed," she captioned the first photo, adding "1st trimester" and the vomiting emoji to the film still. The image from the movie is a bit graphic, but fans can feel reassured that Schumer and her growing baby are getting plenty to eat now that she's moved into the second trimester.
The update comes just a week after Schumer first announced that she and husband Chris Fisher are expecting. Rather than a traditional pregnancy announcement, Schumer embedded her big news in a friend's Instagram post, along with a list of political candidates that she backs, according to Cosmopolitan.
Journalist Jessica Yellin of News Not Noise was the first to share Schumer's pregnancy with the world. "I wanted to share some news from our community, maybe it's noise but it's happy noise," Yellin said in her Story, according to People:
So I'm not in the business of making voting recommendations, but these are the recommendations of Amy Schumer, one of the most consistent and earliest supporters of News Not Noise. Now read all the way to the bottom, you'll see there's some news down there. Congratulations, Amy.
At the end of the list of candidates, there was simply the line, "I'm pregnant - Amy Schumer." Schumer also posted a photoshopped photo of Prince Harry and Megan Markle with hers and Fisher's faces imposed over the royal couple's while directing her followers to Yellin's page.
Se7en isn't the only movie that Schumer has channeled during her pregnancy. In another Story, she went full Gollum and wrote "My precious" over a photo of herself cradling her belly, Pop Sugar reported. The Lord of the Rings reference followed another joke from a couple of days earlier when Schumer posted a photo of herself holding a baby, stating in the caption that she had already given birth. "Already had the baby. Took me less than 4 months. Let's see Megan do that sh*t," she joked. In another Instagram Story, she showed herself leaning over the toilet with yet another reference to the coming royal baby. "Today Markle is in Figi [sic]. Same. #MILF," she wrote, according to People.
Despite Schumer still being in the early stages of her pregnancy and only just having shared her news with the world, people are reportedly already asking her if she's "crowning." She told Us Weekly that this is only one of the many aspects of pregnancy that have been less than fun. "Nonstop puking," difficulty zipping her clothes, and raging hormones have plagued her these past few months. Now that her nausea has passed, she has been craving penne alla vodka and her chef husband has been happy to oblige.
While she has yet to share her due date, Monsters and Critics speculated that Schumer will have the baby in early May based on the timing of her announcement. Fortunately for her fans, that leaves plenty of time for the hilarious joke material that comes along with growing another human. And I have no doubt that Schumer will milk the opportunity for all it's worth.