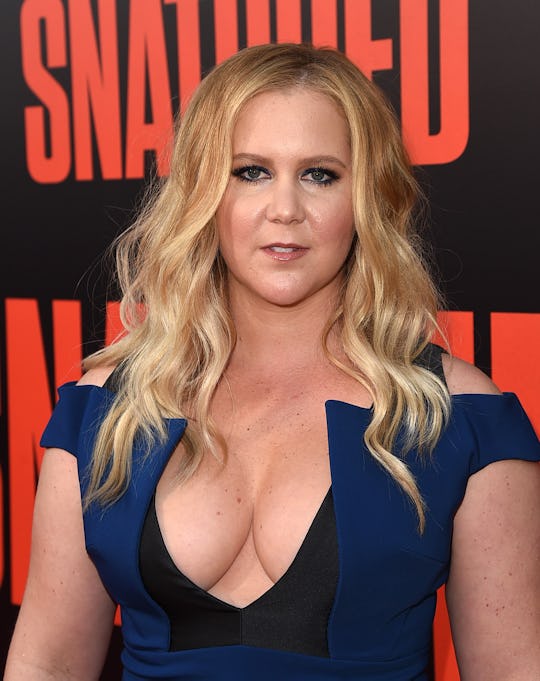 Kevin Winter/Getty Images Entertainment/Getty Images
Amy Schumer Has Been Hospitalized For This Debilitating Pregnancy Condition
Pregnancy, especially your first one, can be tough. Just ask Amy Schumer, who is suffering from hyperemesis gravidarum, the same medical issue Kate Middleton dealt with with during her pregnancies. Schumer opened up about the serious issue on Instagram Thursday, after she was forced to cancel one of her stand-up shows.
Schumer is one of those celebrities who isn't afraid to tell it like it is. Case in point: During Schumer's first trimester, she joked about her supposedly gluttonous ways, going as far to compare her life to a scene in the movie Se7en.
"First trimester had me like #soblessed," she captioned a shot of herself passed out atop a plate of food.
Although Schumer thought her troubles were behind her after reaching the second trimester mark, she recently learned that isn't the case. It all went down after Schumer was hospitalized with hyperemesis gravidarum aka severe nausea on Thursday. The pregnancy-related condition can cause weight loss and dehydration, as the nausea is often constant, according to Stanford Children's Health.
After missing a scheduled show due to the medical issue, Schumer took to Instagram to share an update with fans. She wrote:
Texas I am so deeply sorry. I have been really looking forward to these shows. I have to reschedule. I am in the hospital. I'm fine. Baby's fine but everyone who says the 2nd trimester is better is not telling the full story. I've been even more ill this trimester. I have hyperemesis and it blows. Very lucky to be pregnant but this is some bullshit! Sending so much love to the doctors and nurses taking great care of me and Tati! They are cool as hell! And Texas I am really really sorry and I'll be out there as soon as I'm better.
Of course, Schumer isn't alone in this battle. The Duchess of Cambridge suffered from this condition during her pregnancies, and similarly to Schumer, she was hospitalized for it in December 2012 while pregnant with Prince George, according to E! News.
Middleton also struggled with the issue during her second and third pregnancies. Prince William revealed his wife went as far to try ginger biscuits to help the situation, stating in September 2017, according to TODAY: "Ginger biscuits — but there's not much ginger can do to stop that. We've done all that."
Ginger is commonly used to treat upset stomachs and other issues.
Although it's not clear if Schumer has tried any home remedies, it's obvious fans have her back.
"I am so sorry for your illness. I am currently 29 weeks and suffering too," one person wrote on Instagram "Thank you for shining a light on this illness and its severity. Sending so much love."
Someone else said: "Take care Amy ♥️ Good luck to you and your bambino 👶🏼."
"Hope you're feeling better soon!!" another person commented. "It was so amazing to see you in Albany! Take care of you and that babe 💕."
Feel better, mama. Your fans are rooting for you.