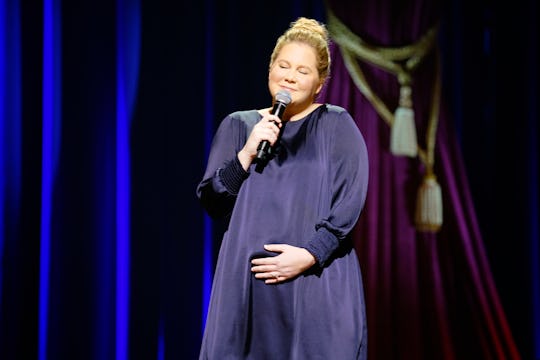 Courtesy of Netflix
Amy Schumer Talks Pregnancy & Hyperemesis Gravidarum In Her New Special
Amy Schumer is one of those super-confessional performers who shares all her wonderful ups and ridiculous downs, both professionally and personally, so it came as no surprise to her fans that when she got married and announced she was pregnant, the funnywoman used her own crazy life as materials. So naturally, Schumer's quotes about hyperemesis gravidarum are so hilariously honest, it hurts.
The comedian, who as The Bump reported, surprised fans with her happy baby news last fall, then became extremely sick with a rare and hardcore type of morning sickness, also known as hyperemesis gravidarum. The website also noted that she's been as real and relatable since then as she can be, between having to check into the hospital and be on an IV to throwing up right before she had to go onstage.
As NBC's TODAY reported, Schumer was so ill earlier in her pregnancy, she had to cancel some of her live tour dates. Luckily, fans can take solace in her Netflix special, Growing (which premieres March 19 according to USA Today), in which she gives lots of juicy (and, of course, funny) new details about her life and state of mind as she awaits her first child with husband Chris Fischer, as People confirmed.
The Daily Beast reported that Schumer hasn't lost her bite in her political and social commentary about our society, making jokes about everything from society's expectations of females to Congress trying to control a woman's right to choose to the #MeToo era. Here are some of her best quotes from the new project: