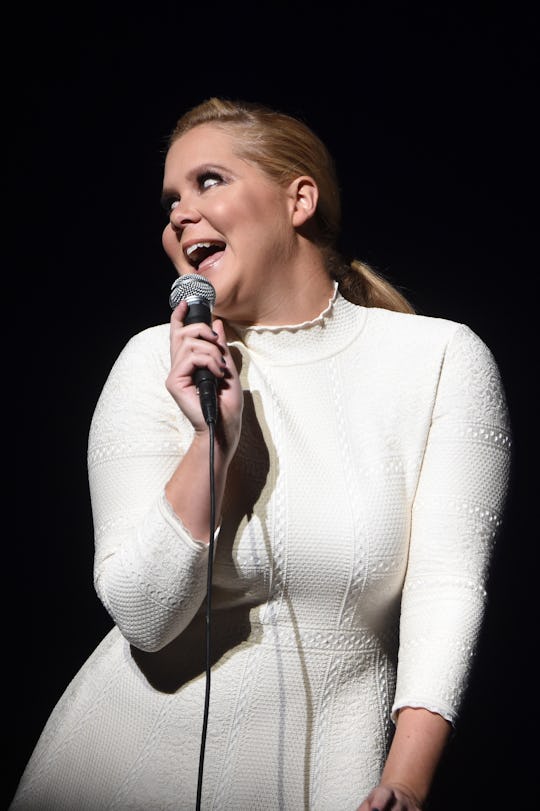 Amy Schumer's Twitter Reaction To Golden Globe Nomination Is Adorable & Hilarious, Just Like Amy
To the comedy world — and, well, the world's — delight, Amy Schumer was nominated for a 2016 Golden Globe on Thursday for Trainwreck. It was enough to make fans of the comedian cheer (even if Inside Amy Schumer's snub was a bit tougher to make them jeer). But nothing had her fans smiling more than Amy Schumer's tweet about her Golden Globes nomination, which was all sorts of adorable.
Schumer came ready for the occasion — in an awesome Throwback Thursday submission, the actress posted a photo of herself as a child, seemingly channeling a psychic with a crystal ball. Said the actress, "Me with my first globe predicting this moment #tbt Holy hell! Thank you Hollywood foreign press!! This is a dream."
Of course, Schumer's nomination was hardly a surprise. The actress received raves for her turn in the film, and has been riding a wave of solid PR thanks to her feminist-forward and undeniably clever Comedy Central series, Inside Amy Schumer. (And Inside Amy Schumer, even if it was ignored by the Golden Globes, already scored four Emmy nominations and one Emmy win in e015.) If anyone deserved to be recognized by the Hollywood Foreign Press, it's Schumer, who's helping transform how we see women in comedy, and perspectives about feminism.
Just see Schumer's 2014 speech at Ms. Foundation for Women's Gloria Awards and Gala, which helped kick off the love surrounding the comedian.
I am a woman with thoughts and questions and shit to say. I say if I'm beautiful. I say if I'm strong. You will not determine my story — I will.
And here's hoping she has a chance to discuss her story even more... at the Golden Globes podium.
Image: Jamie McCarthy/Getty