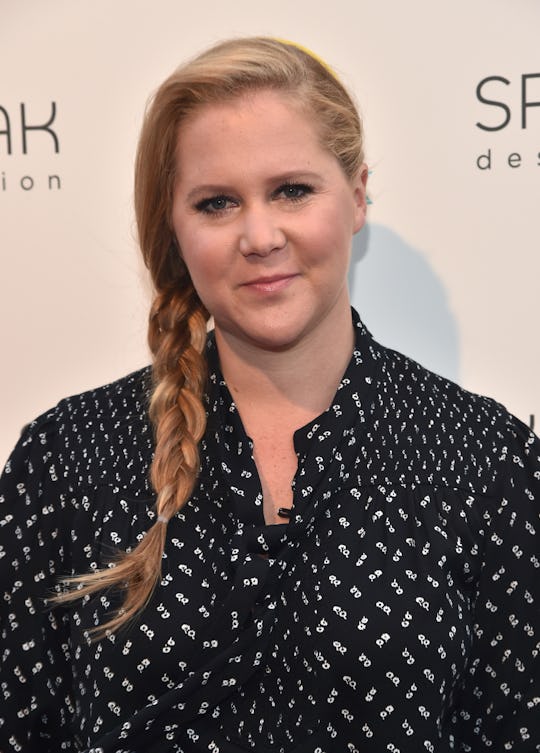 Alberto E. Rodriguez/Getty Images Entertainment/Getty Images
Amy Schumer's Ultrasound Video Post Encourages Followers To Vote
When I first found out that Amy Schumer and her husband, Chris Fischer, were expecting their first child, I knew she was going to totally rock pregnancy and motherhood. I mean, the stand-up comedian and actress is quirky and hilarious in her own right. But impending parenthood can be a wild rollercoaster ride — and I was looking forward to hearing her take on it all. Much to my delight, Schumer didn't waste time sharing more. And like her initial pregnancy announcement, Amy Schumer's ultrasound video post encourages followers to vote.
As the Daily Mail reported, the expecting mom took to Instagram on Monday, Nov. 5 — the day before midterm elections — to share a touching video of a recent ultrasound. In the clip, Schumer has her hands over her mouth, clearly in awe over what she's seeing on the ultrasound screen. The camera then pans over to the screen itself. "Oh my god, it's moving all around. Oh my god, see? It has so much energy," Schumer says off-camera. "That's why I'm puking every day." Alongside this touching photo — and first look at baby Fischer/Schumer — the mom-to-be had an important message for her Instagram followers.
"Happy Election Eve! You can look up your polling place + hours by texting LOCATION to 21333," she wrote. "And you can look up a sample ballot to be prepared at vote411.org/ballot Make a plan to #vote and let's make history tomorrow! ♥️🗳 (Feel free to copy this + send it to everyone.) thanks @piperperabo" Based on the post's commentary, I think it's safe to say Schumer's followers adored both the video and her message — even though they weren't directly related. (But if you think about it, they really are.) One Instagram user wrote, "Isn't that the craziest but best feeling ever??!! I'll be voting Blue tomorrow 👊🏼 #redtoblue#gunsense#vote#votethemout."
Another follower commented, "Oh honey. I'm crying remembering those days. Thank you for sharing this and thank you for all you're doing to encourage people to vote! And Congratulations on your little one!!! ❤️❤️❤️."
Yet another Instagram user chimed in with, "I love that you are sharing so many sweet moments in your life AND advocating to get out the vote 💗💗💗 I'm a first time Mom and my daughter is 9 weeks. Enjoy every single moment of this! It goes by so fast."
For the record, this isn't the first time Schumer has mixed a pregnancy post with politics. As People reported, Schumer had her friend Jessica Yellin of News Not Noise help her make her baby announcement on Oct. 22. "I wanted to share some news from our community, maybe it's noise but it's happy noise," Yellin said in an video posted on Instagram Stories. "So I'm not in the business of making voting recommendations, but these are the recommendations of Amy Schumer, one of the most consistent and earliest supporters of News Not Noise. Now read all the way to the bottom, you'll see there's some news down there. Congratulations, Amy." Immediately following Schumer's list of recommendations, it reads, "I'm pregnant — Amy Schumer."
Schumer also shared the baby news on her own Instagram, Elle reported — with the help of a photoshopped photo of her head and Fischer's head on Prince Harry's and Meghan Markle's bodies. "About to announce some exciting news on @jessicayellin insta page," Schumer captioned the photo. "Please follow her for up to the minute #newsnotnoise she breaks down what's really going on. She agreed to post a lil noise today for me! Follow her and VOTE!!"
Personally, I'm right there with Amy Schumer's Instagram followers: Totally loving her reaction to seeing her fetus during the ultrasound and totally digging her reminder and resources ahead of midterms tomorrow. Because as unrelated as these subjects may be on the surface, what happens in politics (especially during these uncertain times) will ultimately affect her child — and everyone else's children — for a lifetime.