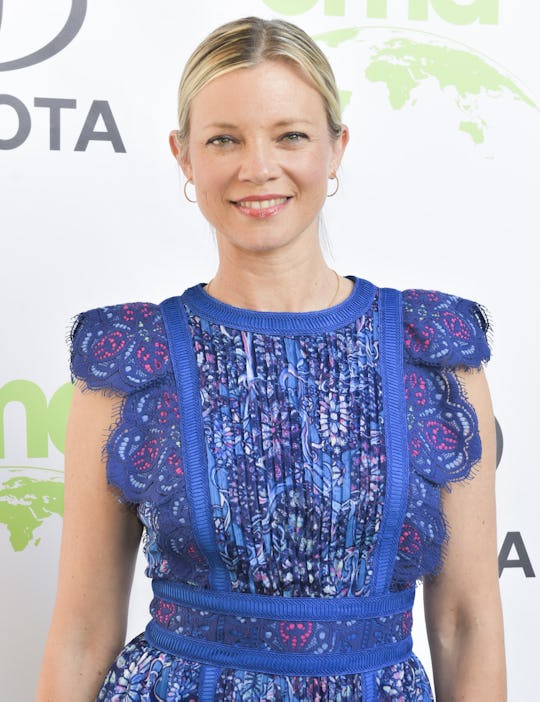 Rodin Eckenroth/Getty Images Entertainment/Getty Images
Amy Smart's Openness About Her Long Struggle With Fertility Is Really Important
When it comes to fertility, there are a lot of silent expectations about conception, pregnancy, and childbirth that most women aren't even aware of until they aren't able to meet them. Perhaps the most pronounced among them is not just whether or not a woman will decide to conceive right after marriage, but the idea that pregnancy — when intended — will be an instantaneous thing. Amy Smart's openness about her long struggle with fertility sheds light on this very topic, and is something that absolutely needs to be talked about more.
After marrying Carter Oosterhouse back in 2011, Smart was as surprised as anyone that she didn't have a baby right away.
"When we got married, I didn't know if we were going to get pregnant right away," the actress told People. "That didn't happen. Years went by and we were just on this roller coaster. Nothing was working. We started to wonder if we were ever going to be parents." Late in 2016, the couple welcomed their first daughter together, Flora.
"We are so grateful we are parents and that we have a beautiful, healthy daughter," she continued. "But it was hard and the more that we can talk about it, the more that we can share our struggles, our difficulties, the more we can help each other and not feel alone in the process."
Soon after her daughter was born, Smart opened up on Instagram about how she and Oosterhouse decided to use a surrogate, Us Weekly reported.
"One month ago today, Dec. 26th our amazing beautiful daughter came into this world," Smart began on Instagram, alongside a photo of her and her new daughter. "Feeling so grateful to have her in my arms... after years of fertility struggles I give thanks today to our kind, loving surrogate for carrying her."
The post, which is dated Jan. 23, 2017, began eliciting many responses from fans and followers who had been through similar struggles.
"Congratulations! So amazing. My husband and I struggled with infertility too. It makes you cherish your time with your little one every second of the day," one comment read. "Many years of infertility as well... and our son was born via surrogate this past Oct. Congratulations... I understand it all so much," said another.
Smart is not the only celebrity to be public about her use of a surrogate, or gestational carrier. Earlier this year, Kim Kardashian West opened up about her own decision to use a surrogate to deliver her third child.
"I hated being pregnant," Kardashian West told Elle about her journey to becoming a mom. "But as much as I hated it, I still wished I could have done it on my own. The control is hard at the beginning. Once you let that go, it's the best experience. I would recommend surrogacy for anybody."
Though surrogacy is not overwhelmingly popular, that doesn't mean it's not a safe, viable option for some families. As Modern Family Surrogacy Center noted, the Council for Responsible Genetics estimates the number of surrogate deliveries in the U.S. to have been around 5,000 between 2004 and 2008. The site noted that there are slim to no other statistics on surrogacy available to the public.
Either way, the point remains that just as no two families are the same, the journey to welcoming children is different for everyone. It's important for women to recognize that there's no one singular way to become a mom or a parent, and that the idea that getting and staying pregnant is always an effortless, immediate thing is largely the result of people not having important conversations about fertility, ones that people like Smart are thankfully willing to begin.