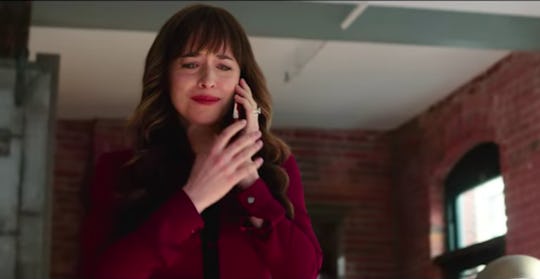 Universal Pictures
Ana Gets Some Very Surprising News In 'Fifty Shades Freed' Trailer
After four books, three movies, and more tie-in products than one ever expected to see lining the aisles of Target, the Fifty Shades franchise is coming to an end. And it seems like it's trying to do so — please forgive me — with a bang. For example, Ana is pregnant in the Fifty Shades Freed final trailer and that's just the beginning of the chaos. There are all manner of obstacles being thrown in the way of the newly married Mr. and Mrs. Grey.
But before things get — seriously, I'm so sorry — darker, Ana and Christian get to enjoy some marital bliss. The trailer starts with a quick retrospective of their awkward beginnings, like Ana falling face-first into Christian's office the day they met, and how that took a turn towards elevator make-outs and emotional openness. Then it transitions into the two of them saying their vows, following by trying on expensive gowns, buying mansions, and hopping onto a personal plane, among other wish fulfillment wealth-flaunting.
Sadly, Fifty Shades Freed isn't all extremely close-up sex scenes and exorbitant retail therapy. There are also outside disruptions that threaten to destroy all the domesticity that Ana and Christian only recently discovered.
At first, the newlyweds' issues are minor: Ana focuses too much on the improbable job she netted back in Fifty Shades Darker, and an interior decorator dares to be too flirtatious with Christian until Ana puts her in her place. Christian seems continually disappointed and delighted by the fact that Ana refuses to submit to him both sexually and in their everyday life, but I'll leave you to read about the feminist implications of that elsewhere (if we head down that path, we may never return from it). Things are going well for the Greys in Fifty Shades Freed after two movies of relationship back and forth, but it doesn't last.
Trouble rears its head in the form of a call from Ana's old boss and former stalker Jack Hyde, who was still creeping on her ominously when the last movie ended. This results in some highway chase sequences and what appears to be a shootout that Ana mysteriously finds herself in the middle of. The series has always had a thriller element, whether it's Christian coming off like a serial killer or old lovers resurfacing with deadly intentions. It's no surprise that the final film would also have its share of trouble, though one can imagine it will be as easily resolved as it was in previous films.
Ana's pregnancy doesn't even become a factor until the final moments of the trailer, so viewers don't get a hint of how she feels about it aside from an expression of vague shock. It certainly casts the myriad dangerous situations in a new light, but doesn't provide much insight into how the couple will handle the seemingly unexpected news. Pregnancy is sure to be one more complication, especially considering Christian's family history, but the Greys are married adults ensconced in enough privilege to be able to weather it just fine.
Book fans already know how the story ends, but those who have only seen the movies shouldn't worry (unless you're hate watching them, in which case you never felt worried in the first place). For as much drama as Ana and Christian find themselves in, they always seem to find a way out of it, too. But don't take my non-book-reading word for it: you can catch the newest installment when it makes its big screen debut. Like the two films that preceded it, Fifty Shades Freed will hit theaters on Valentine's Day.
Check out Romper's new video series, Romper's Doula Diaries:
Watch full episodes of Romper's Doula Diaries on Facebook Watch.