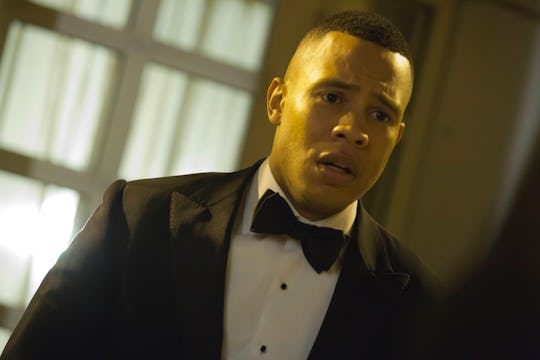 Chuck Hodes/FOX
Andre Struggles After Rhonda's Death On 'Empire' & It's Heartbreaking To Watch
We're still reeling over the fact that Rhonda, Andre's wife, died in the first two minutes on the season premiere of Empire. Maybe it should have been obvious, given the fact that Anika pushed her down the stairs previously – and because the producers hinted at a character death. Regardless, Rhonda's sudden death was still shocking. Andre is understandably devastated; as Wednesday's episode showed, Andre is struggling with Rhonda's death on Empire and it's utterly heartbreaking to see.
In the season premiere, we saw a glimpse of how Andre is unraveling. We learn that Rhonda was the one to arrange his medication, and without her Andre hasn't been taking them. By doing this, Empire is doing something not many other shows are: it has a main character with a mental illness. While Andre's illness has been portrayed before on the show, Rhonda's death seemed to have bring them to the surface again.
Sanaa Hamri, an executive producer and director on Empire, spoke to TV Guide about what Andre goes through this season. "The journey is going to be bumpy," she said. "[African-Americans] have a history of not wanting to address mental health issues. It's always been taboo, but in our show we want to address that."
Andre will also want to break from the church. "His faith is going to be tested, for sure," Hamri said. "Andre has turned to faith, and as we know, people turn in and out of faith."
On Wednesday's episode, Jamal sees how badly Andre is doing. He reveals to Jamal that Rhonda took care of his meds; thankfully, Jamal offers to help him out. Andre tells his brothers that he has to "let Rhonda go." While the scene was touching, getting back to a good mental state proved to be just one hurdle Andre has to conquer. In the final scene, he was profiled by police and put under arrest. From portraying a main character with mental illness to showing police brutality, Empire is tackling heavy issues this season. We'll have to continue watching to see how they, and other important topics, unfold.