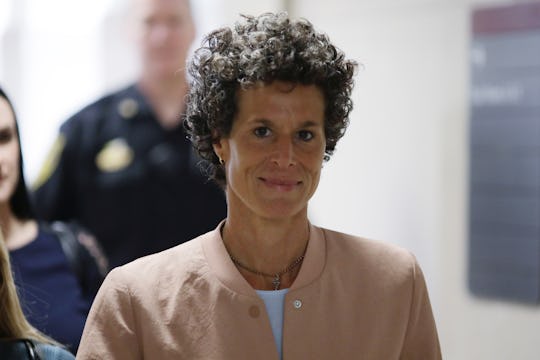 Pool/Getty Images News/Getty Images
Andrea Constand's Impact Statement To Bill Cosby Highlights The Power Of Speaking Up
Bill Cosby's accusers are finally seeing justice being served. Cosby was sentenced to three to 10 years in prison on Tuesday after being convicted of aggravated indecent assault, bringing justice to victim Andrea Constand and the other women who stood up against him. Reading Cosby accuser Andrea Costand's impact statement shows just how much this sentencing meant to not only his victims, but sexual assault survivors the world over.
Constand was 29 when she first met Cosby in 2002, according to People. Just two years later, in 2004, Cosby reportedly drugged her and then sexually assaulted her, according to People. In 2005, Constand filed a civil suit against Cosby, stating that he had drugged her and raped her, according to Deadspin. The allegations later resurfaced in 2015, and a new team of prosecutors took on the case, bringing Constand's accusations to trial for the final time, according to CNN. Constand's breakthrough led to other women coming forward and accusing Cosby of sexual assault, according to New York Magazine. And, on Tuesday, Constand, along with these women, finally got to see justice being served at Cosby's sentencing.
Knowing that Constand was the first to come forward with these claims makes her impact statement (which could be triggering to survivors of sexual assault), written ahead of Cosby's sentencing, according to CNN, all the more powerful. Her voice demands to be heard, in order for people to understand just how much Cosby's sentencing means to not only Constand but the other women she inspired to come forward.
"After the assault, I wasn't sure what had actually happened but the pain spoke volumes," Constand wrote, according to HuffPost. "The shame was overwhelming. Self-doubt and confusion kept me from turning to my family and friends as I normally did. I felt completely alone, unable to trust anyone, including myself."
But, as previously stated, it has become increasingly clear that Constand wasn't alone. As of August, a total of 60 women have come forward reportedly accusing Cosby of assaulting them, according to USA Today, with accusations dating back to the late 1970s. It's understandable why these women would choose to remain silent for so long — women often don't report their rapes, according to the Rape, Abuse, and Incest National Network (RAINN). And when they do, they don't see justice served.
For every 1,000 rapes reported, according to Vox, only six perpetrators are incarcerated. It's statistics like these, along with seeing people who stand on the side of those accused, that make women afraid to speak up. It makes them feel like their story isn't powerful enough. But Constand has proved that isn't the case — Cosby's sentencing has shown that justice can come to survivors, even if they might never be fully healed from their assault.
Constand elaborated on this in her impact statement, according to HuffPost:
I know now that I am one of the lucky ones. But still, when the sexual assault happened, I was a young woman brimming with confidence and looking forward to a future bright with possibilities. Now, almost 15 years later, I'm a middle-aged woman who's stuck in a holding pattern for most of her adult life, unable to heal fully or move forward.
In April, Cosby was convicted of drugging and sexually assaulting Constand, according to NBC News, and as previously stated, was sentenced to three to 10 years in prison on Tuesday for these crimes. Cosby, however, has denied these claims and maintained his innocence the entire time, according to NBC News.
Kathy McKee, another woman who accused Cosby of alleged sexual assault, told CNN that Cosby's sentencing was an understandably difficult moment for her but she is grateful for Constand leading the way for their justice.
"I feel a great deal of sorrow for all the women that this has happened to, and not just with Bill Cosby, but everywhere," McKee said. "I'm just struggling to keep going every day and I'm happy that the judge sentenced Billy Cosby accordingly and I'm grateful for Andrea for standing strong."
Nothing can take back what Constand has been through, and the things she will will continue to deal with for the rest of her life.
However, her story, her brave face at the forefront of the trial, and her impact statement has the ability to help so many women out there who have gone through the same thing.
If you're a victim of sexual assault and need help, contact the National Sexual Assault Telephone Hotline at 800.656.HOPE to be connected with a trained staff member from a sexual assault service provider in your area. You are not alone.