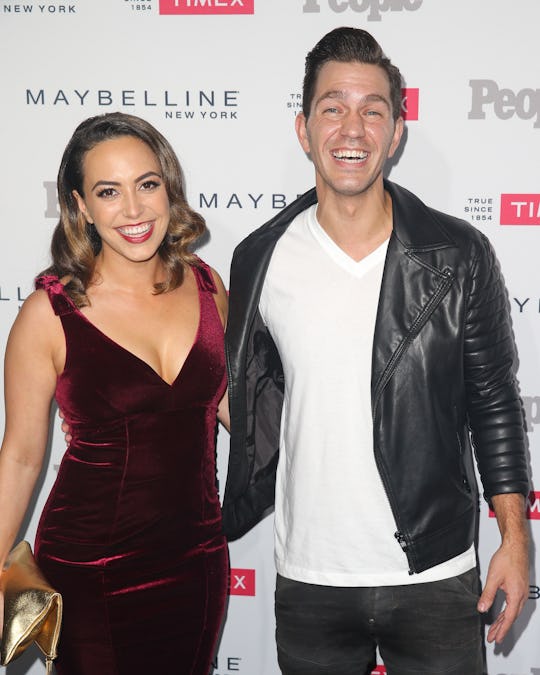 Imeh Akpanudosen/Getty Images Entertainment/Getty Images
Andy Grammer & Wife Welcome First Child & Posted Adorable Instagrams To Show Her Off
Andy Grammer's officially a first-time dad! The 33-year-old singer's daughter entered the world in the wee hours of the morning on Friday, July 28, and he and his wife are overjoyed. Grammer and his wife Aijia welcomed their firstborn to the public with matching Instagram posts on Tuesday, which also revealed her adorable nickname.
Grammer and Aijia plan on calling their baby "Louie," but her full name is Louisiana K Grammer. "We're so in love," Grammer gushed to People. "We can't believe we get to keep her," he adorably proclaimed. The couple posted matching Instagram photos in celebration, with trumpet, music, and heart emojis, too. Grammer's rep confirmed the news with People on Tuesday, also sharing that their baby girl weighed in at 7 lbs., 11 oz., and measured 20½ inches in length.
News of a firstborn Grammer baby first hit in March, when Aijia was five months pregnant. Finding out that a girl was on the way was extra cause for excitement, as Aijia shared that for "both sides of [the] family it's the first girl, so it's fun because it's happy news to everyone."
Finding out she's having a girl totally changed things for Aijia, making her pregnancy that much more special:
I feel like if you told me I would be having a son, I would be like, 'Yeah, I'm going to be a parent—I get that.' But when the doctor was like, 'You're going to have a girl,' I was like, 'What? Who am I?' It's the craziest piece of information that changes who you are. It's sweet.
And Aijia's not the only one ready to support their new girl and whatever comes her way. "I take the role of being a father to a daughter very seriously," Grammer had shared awhile back. "I think there's something very special about that — there's a lot about women's empowerment right now; I think the coolest thing you can do is just raise a really strong daughter." Looks like Grammer's ready to raise his child in a feminist household, which we — and Aijia —couldn't be more on board with. While pregnant, Aijia posted a way-too-real Instagram revealing: "I must admit, I never fully gave the women around me enough credit for how much work this is," while acknowledging: "It always feels like it's for a higher purpose."
These two will make great parents, we're sure of it. Louie's in great hands, and we can't wait to get to know her!