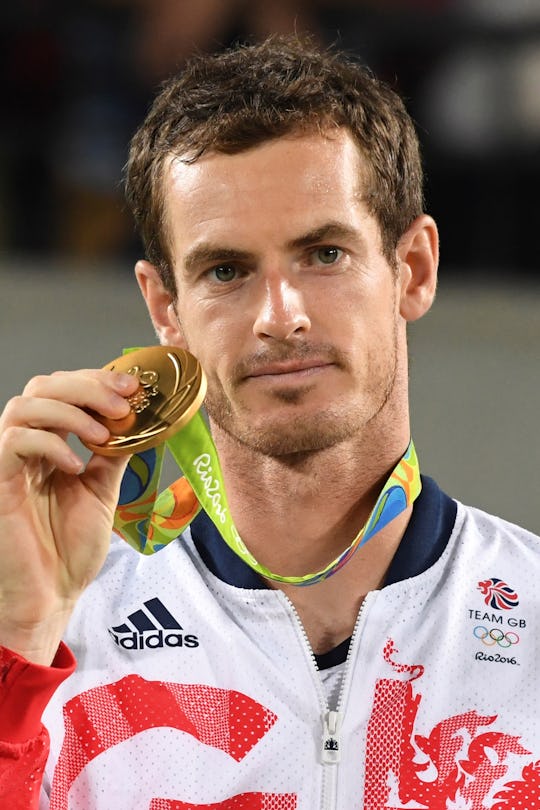 LUIS ACOSTA/AFP/Getty Images
Andy Murray Calls Out Casual Sexism & Gives The Williams Sisters Credit Where It's Due
Broadcasters covering the 2016 Rio Olympics have made a fair amount of on-air gaffes so far and viewers at home as well as some athletes competing in this year's Summer Games have not let it go unnoticed. One particularly damning blunder was made during a post-game interview on Sunday night. Tennis player Andy Murray called out some casual sexism, giving fellow tennis champions, Venus and Serena Williams, credit for their prior Olympic accomplishments.
The gaffe occurred during an interview by BBC reporter John Inverdale with Murray, in which Inverdale praised him for being the first "person" to win two Olympic golds in tennis after he defeated Argentina's Juan Martin Del Potro. But that's not exactly true. According to The Evening Standard, the Scottish Olympian took a moment to correct that statement and reminded the broadcaster that women also exist and succeed in the sport.
"You're the first person ever to win two Olympic tennis gold medals," Inverdale said to Murray on Sunday. "That's an extraordinary feat, isn't it?"
"Well, to defend the singles title ... I think Venus and Serena [Williams] have won about four each but hadn't defended a singles title before," Murray replied. "I mean it's obviously not an easy thing to do. I had to fight unbelievably hard to get it tonight as well."
Murray's comment quickly won over many on social media as many fans and spectators commended him for shutting down this latest broadcast blunder and for frequently speaking out against sexism in the athletic world:
What's more, Murray also caught the attention of Scottish first minister Nicola Sturgeon:
As many on Twitter have pointed out, this isn't the first time Murray has spoken out against sexism in sports and sports journalism. Just last year he called himself a "feminist" after witnessing the unfair prejudices and criticism that his coach, Amélie Mauresmo, has gone through.
According to The Guardian, Murray wrote in his 2015 blog for L'Equipe:
The staggering thing was that she was slated every time I lost, which is something my former coaches never, ever experienced. It wasn't right. I got off to a bad start last season and things have only got better since Amélie arrived. I was ranked 11th in September 2014, I'm now ranked third – it speaks for itself. They say I was plucky choosing Amélie but, truth be told, if anyone was plucky it was Amélie – she's the one who's taken the heat. Her competence was always under fire. I felt embarrassed.
He concluded the piece, according to The Guardian, "Have I become a feminist? Well, if being a feminist is about fighting so that a woman is treated like a man then yes, I suppose I have."
Although it's unfortunate that comments like this still happen far too frequently in the media, the tennis star's subtle, but powerful response helped bring awareness to the casual sexism many women endure daily.