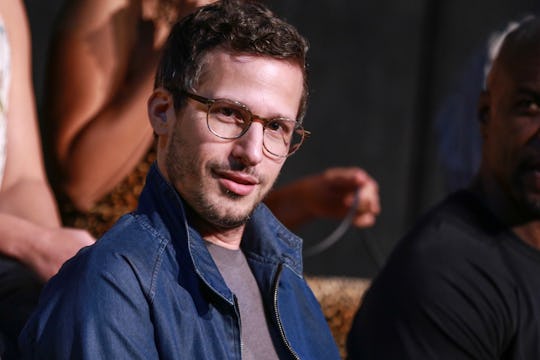 Rich Fury/Getty Images Entertainment/Getty Images
Every Parent Can Agree With Andy Samberg's No Slime Policy For His Kid
In August, Andy Samberg and his wife Joanna Newsom welcomed their daughter after keeping the pregnancy a total secret from the public. But now that he's a dad, the comedian is going public with his new dad woes and already has some pretty strict rules in place. For example, on Jimmy Kimmel's show this week, Samberg said he isn't letting his daughter play with slime when she gets older and got pretty real about other #NewParentProbz.
Talking to Kimmel, the Brooklyn Nine-Nine star said that he doesn't think he'll be too strict, but after watching the late night show host make slime with kids, he definitely already has one house rule decided upon. "I'm definitely not going to let her make slime. It seems just disgusting and bad," he laughed. Then Samberg changed his tune. "Of course when she's older and asks me, I'll be like 'yeah go ahead whatever you want," the comedian said. So he's already kind of a softie.
So far, he really seems to be settling into his new status as a father. Maybe too much, actually. Samberg showed up for Kimmel wearing the Steph Curry Under Armour shoes, which the internet has dubbed "nurse shoes." They are the most basic dad-gear possible, for sure.
Check them out.
Samberg said something has definitely changed about his fashion sense since having a child. He joked with Kimmel, "I was like, 'I think I'm making them work, I think they look cool.' And then I was like, 'No, I'm a dad, I think they look good.' I went outside and a bunch of dads were like, [pointing] 'Yeah!'"
Kimmel totally understood and posited that a father's tendency to wear clothes with no labels is to set an example so that their kids don't get used to designer clothes. "Yea, because then you have to buy baby [Nike Air] Jordans. Which are pretty dope," Samberg agreed. It's true — baby Jordans are definitely super cute. Or at least cuter than those "nurse shoes."
Not having a designer fashion sense isn't the only thing Samberg is teaching his daughter. He said in the interview, "She's still really young, but she has started just sitting there and making fart noises with her mouth and then laughing really hard. And I was like, 'Oh, well, I've taught her everything I know.'"
Although he's having fun being a dad, Samberg said he thinks people are sneaky about becoming parents. He told Kimmel:
It's interesting, when your wife is pregnant and you're expecting, everyone's like, "It's incredible. Get ready. It's magic. It's the most life-changing experience you'll ever have. Brace yourself for heaven." And then the second the baby comes, everyone's like, "Welcome to hell! Ha ha ha! You fool! You're in a world of shit!" I feel like I'm gonna get kicked out for telling everyone without kids — it's really hard. I'd look out.
The man has a point, though it's safe to say that Samberg's dad jokes are just going to get worse over time. During this most recent press tour for Brooklyn Nine-Nine, he's been all about showing off his new skill set. Like when he visited Conan O'Brien's show earlier in the week, he appeared with a fake baby in a carrier and did the worm on stage.
Samberg, 38 years old, and Newsom, 35 years old, married in 2013 after dating for five years. They confirmed the birth in early August, but did not share a name or any other information with the press, according to People. Samberg and Newsom had been thinking about kids, but weren't in a rush for anything. Samberg said in 2015, "I would love a baby someday. I don't think a baby is something that you should do because other people are doing it," according to People.
Sounds like they finally decided it was time. Let's just hope Newsom talks Samberg out of his "no slime" policy. And his next pair of ugly dad-shoes.
Watch Romper's new video series, Romper's Doula Diaries:
Check out the entire Romper's Doula Diaries series and other videos on Facebook and the Bustle app across Apple TV, Roku, and Amazon Fire TV.