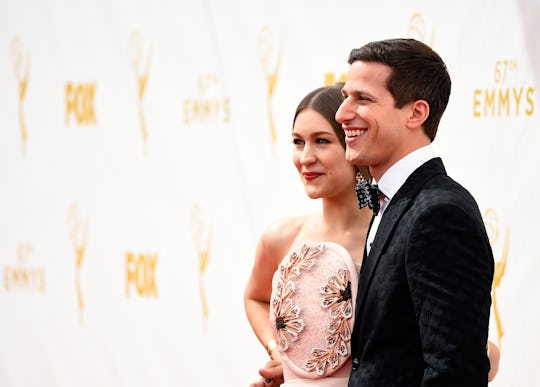 Frazer Harrison/Getty Images Entertainment/Getty Images
Andy Samberg & Joanna Newsom Welcome Their First Child
Congratulations are in order! According to People, Andy Samberg and Joanna Newsom welcomed a daughter recently, but they're currently keeping any further details under wraps. This is the first child for both the Brooklyn Nine Nine star and his wife — and apparently, the private couple managed to keep Newsom's entire pregnancy a secret.
Samberg and Newsom got married in September 2013 after five years of dating, and in the past, they've both spoken pretty openly about wanting kids. "I would love a baby someday," Samberg told reporters at a Fox All-Star Party last year, according to People.
However, he also said at the time that he wasn't planning on having kids simply because several of his friends — including Justin Timberlake and Seth Meyers — currently were. "I don't think a baby is something that you should do because other people are doing it," he said.
Newsom, a musician who plays the harp, has also spoken about the possibility of kids before. According to Us Weekly, in a 2015 interview with Larry King, she responded to a question about kids with: "Little harpist Samberg, thank you for putting that image in my head."
And now, apparently, there is a little harpist Samberg! (Except she's probably not a harpist yet. But hey, give her time.)
At the moment, Newsom and Samberg are keeping details about their daughter's birth — such as her name and birthday — to themselves. "We can confirm they had a baby girl and that is all at this time," Samberg's rep, Jillian Roscoe, told USA Today.
The private couple also had a pretty secretive wedding, although Samberg's Brooklyn Nine Nine co-star Terry Crews did spill the beans before the nuptials. "He's getting married this week by the way," Crews reportedly told Access Hollywood several days before Samberg and Newsom tied the knot. "I gave him all my love, I let him know – you know I've been married 24 years – so I'm like, 'Dude, dude, be serious. This is real.'"
After the wedding, the couple enjoyed a private vacation in the Maldives before returning home to attend the very public Golden Globe Awards. And while they both continue to lead professional lives in the public eye, they've clearly done a good job of keeping their personal lives under wraps.
Here's to Samberg and Newsom and their new baby girl! I'm looking forward to either seeing her star on Brooklyn Nine Nine one day or hearing her kill it on the harp like her mom.