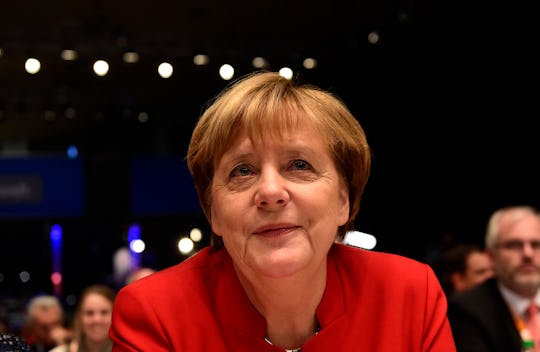 TOBIAS SCHWARZ/AFP/Getty Images
Angela Merkel Wants To Ban The Niqab, & It's A Bad Sign For Muslim Women's Rights
Running for a fourth term as German chancellor, Angela Merkel has added a controversial promise to her campaign: according to The Guardian, Merkel called to ban the niqab and the burqa (when worn down to cover the face) on Tuesday, saying full-face veils were "inappropriate" and encouraged "parallel societies." Her push against the Muslim clothing came during a speech to her party, the Christian Democratic Union, after which 89.5 percent of party delegates re-elected her as their leader. It was the lowest endorsement rate she's received from her party in her years as chancellor.
"The full facial veil is inappropriate and should be banned wherever it is legally possible," Merkel said on Tuesday, according to The Guardian. "Our law takes precedence over codes of honour, tribal or family rules, and over sharia law – that has to be spelled out clearly. ... This also means that it is important to show face when people communicate."
Merkel's new stance aligns with calls from conservative, anti-immigration politicians. The Alternative for Germany populist party's manifesto, for instance, includes a chapter titled "Islam is not a part of Germany," and party members have called for a ban on burqas and mosque minarets, according to Reuters.
For Merkel, however — who welcomed thousands of refugees to Germany despite backlash from many last year — the call for full-face veil bans is a bit of a departure from her usual stance. And yet, it falls in line with increasingly right-wing, populist sentiments taking root across Europe.
Human Rights Watch spoke out against France's existing full-face veil ban in 2014, saying the law undermined Muslim women's rights to personal autonomy and to freely express their religion and beliefs. On top of that, researchers have argued, the bans do little to force women's liberation, as politicians backing the bans have promised they would. "Bans like these undermine the rights of women who choose to wear the veil and do little to protect anyone compelled to do so," Izza Leghtas, a Human Rights Watch researcher said in 2014.
Women who wear niqabs and burqas, researchers have explained, now simply stay home, further restricting their rights. Sociologist Agnès de Féo explained to The Washington Post that the French law has done little to improve women's rights and has only increased Islamophobia and radicalization in the country. "Those who have left to go and fight in Syria say that this law is one of things that encouraged them," she told the Local. "They saw it as a law against Islam. It had the effect of sending a message that Islam was not welcome in France."
Bans on full-face veils — such as the ones in France, Belgium, and parts of Spain and Italy — have a "disproportionate impact" on Muslim women, Human Rights Watch has argued, making veil bans discriminatory. For a country that has led the way in welcoming refugees and opening up its borders, Merkel's proposed ban displays a disappointing turn towards xenophobic and discriminatory practices. Unfortunately, it also seems like a concession to growing, popular right-wing tendencies that could be necessary in order to secure a majority vote.