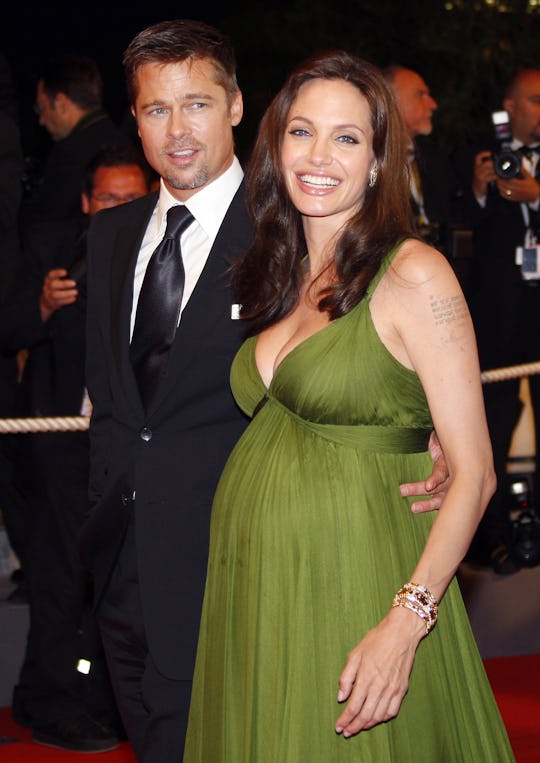 VALERY HACHE/AFP/Getty Images
Angelina Jolie & Brad Pitt Family Photos That Will Give You All The Broken-Hearted Feels
By now you've probably heard that America's favorite actor-turned-humanitarian couple Angelina Jolie and Brad Pitt — "Brangelina" for short — are parting ways. After a two-year marriage and 12-year relationship, Brangelina is over. TMZ reported early this morning that Jolie had filed for divorce, citing "irreconcilable differences."
Jolie is asking for full physical custody of the couple's six children, suggesting Pitt get visitation rights and joint legal custody only. Jolie's representative and high-profile divorce attorney Laura Wasser said Jolie is not asking for spousal support.
"This decision was made for the health of the family. She will not be commenting, and asks that the family be given its privacy at this time," Jolie's attorney Robert Offer said in a statement, according to People.
Pitt echoed those sentiments in a statement to People.
I am very saddened by this, but what matters most now is the well being of our kids. I kindly ask the press to give them the space they deserve during this challenging time.
Some outlets have speculated about an affair as the cause of the divorce, but sources told TMZ no third person was involved in Jolie's decision to file. Instead, the decision was made solely based on "irreconcilable differences" and Pitt's interaction with the children, Maddox, Pax, Zahara, Shiloh, Knox, and Vivienne. Jolie said she filed because of "the way Brad was parenting the children" and she "was extremely upset with his methods." Neither Pitt nor Jolie's representatives have responded to Romper's requests for comment.
In memory of Brangelina's best years, including precious time spent with their six sweet children, let's take a look back through pictures. Grab a tissue box if you must.
Jolie, Pitt, and son Maddox make an appearance at the Governors Awards. The couple has always been very family-minded, so it's no surprise they brought along their son for a fun night out.
The family was known for their trips around the world. Here, the couple is seen in India with babies Pax and Zahara.
The whole gang is traveling together. I don't know how either Pitt or Jolie alone will manage to hold on to all six of the kids in the future. Luckily for the parents, they're a bit older now, so they won't need quite as much handholding.
Another day, another trip, another tuk-tuk ride. Jolie and Pitt share a loving smile with their baby in the middle.
Jolie had adopted Maddox, 14, and Pax, 11, before she began seeing Pitt. After the two got together, Jolie adopted Zahara, now 10, who Pitt then filed to legally adopt. The children's last names changed to Jolie-Pitt. Shiloh, 9, and twins Knox and Vivienne, 7, were born in 2006 and 2008, respectively, as the couple's only biological children. The couple celebrated their two-year wedding anniversary last month, according to People.
Oh, gosh. Here come the tears.