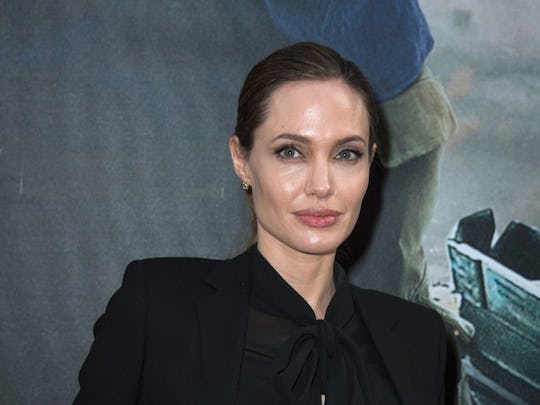 Angelina Jolie & Brad Pitt Reveal How They Got Legally Married, & It's Not So Romantic
Angelina Jolie Pitt has been busy lately. With her new movie, By the Sea, set to premiere next Friday, the star recently spoke to both the Wall Street Journal and the New York Times to reveal what it was like to write her first screenplay, act alongside husband Brad Pitt for the first time in ten years (their last film together was 2005's Mr. and Mrs. Smith), and simultaneously direct him. 
The movie started filming shortly after Brangelina were married in August 2014. Although the ceremony took place in France, the legal marriage was in California. Jolie Pitt says she and Pitt were in the editing room when an assistant handed them their marriage licence and told them a judge was waiting outside to marry them. "Then the judge came in, this lovely guy, and at some point, Brad said, 'Shouldn't we be standing up?' The judge said, 'No.' Then suddenly we realized we were married, in the most unceremonial [sic] way possible."
Rather than take a honeymoon, the newly married couple went straight to shooting the movie, in which they play an unhappily married couple. Not the best way to start a marriage, thought Jolie Pitt. "A few days into filming I thought: This is such a bad idea. What was I thinking? This is going to destroy us before we've even gotten started." But it ended up being sort of a relationship boot camp. "[B]y the time we got to the end of the film, we'd argued, challenged each other, disappointed each other, had good days, bad days, all of it. We'd pushed through, learned something about each other, found a new working relationship and came to like the idea of 'Yeah, it gets really bad, but you work it out.'"
The actors got pretty method, staying away from each other in between takes of emotionally wrenching scenes. It was also difficult for Jolie Pitt to switch back and forth between being an actor and a director: "There's a whole reel of me calling 'Cut!' If a doctor saw it, I'd be put on medication. I'm hysterically crying and then calling 'Cut!' or during a sex scene I am calling 'Cut!' on Brad. You had to laugh at how bizarre it was."
This is the third film Jolie Pitt has directed, and, incredibly, the first time Pitt has been directed by a woman. Having his wife as his boss was both good and bad, he told WSJ. "Being a couple, we have that shorthand that can be communicated in a look. Conversely, it means I knew immediately if she felt a take stunk."
The couple's son, Maddox, also worked on the movie as a gofer. He was on set for some of the lighter scenes but was not allowed to attend the more graphic ones. Good choice, mom and dad! Jolie Pitt recalls running into him after one such scene, with mascara running down her face: "He just shook his head, like, 'Wow, Mom. Nice.' This business, I grew up in it myself, so I'd almost be happier if the kids weren't interested. But he loved it."
But does his mom? According to Pitt, "I'm not sure she ever really enjoyed acting, but was doing it more for her respect for artists and her mother, who loved the art." However, "With writing and directing she has discovered her own joy within it."
The WSJ interview also touched on Jolie Pitt's decision to have a double mastectomy and have her ovaries removed after discovering that she carried the BRCA1 gene mutation, which increases cancer risks. Pitt said, "I'll tell you this about her surgeries: Once the decision was made, she was on the operating table two weeks later. You have to understand that this is a woman who never knew she'd make it to 40. This is a woman who had watched her mother, aunt and grandmother become sick and eventually succumb, all at an early age." Jolie Pitt added, "I want to make sure my kids are never worried about me" … "I never, ever want them to have that secret worry and feel that they have to take care of me."
It's hard to believe that this is the same hard-partying woman we got to know in the '90s. Now a director and U.N. ambassador, in good health, with a great marriage and career, and a gaggle of kids, it seems like Jolie Pitt's in a great place. Let's hope By the Sea is a success.
Image: Pascal Le Segretain/Getty Images Entertainment/Getty Images; Universal Pictures