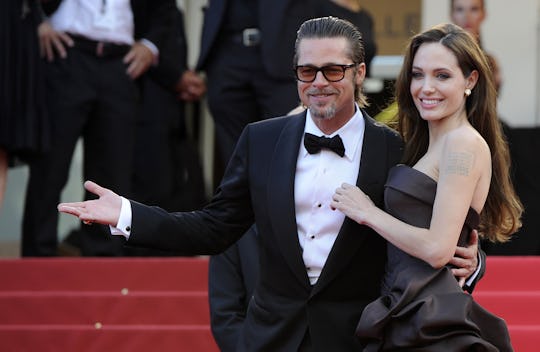 ANNE-CHRISTINE POUJOULAT/AFP/Getty Images
Angelina Jolie & Brad Pitt's Relationship Timeline Is Packed Full Of Memories
When the news of Brad Pitt and Angelina Jolie's divorce broke this morning, the internet stifled a gasp. While Pitt and Jolie deserve their privacy during a tumultuous time, the Hollywood couple have been making headlines ever since their relationship's highly-publicized beginning. The world has endured 12 years of tabloid headlines about Brangelina while waiting in supermarket check-out lines or while walking past newsstands on the way to work. So it's only fair that the public wants a little closure, and to that end, I've compiled an Angelina Jolie and Brad Pitt relationship timeline.
Settle in, kids, because this story's a little long. It begins, after all, in a time that I call pre-Brangelina. During this hazy time — before Mr. and Mrs. Smith began filming in 2004 — Jolie was recently divorced from her husband of three years, Billy Bob Thornton, and Pitt was still married to one of Hollywood's most famous actresses, Jennifer Aniston. Jolie had already adopted her first child, Maddox, from Cambodia in 2002. The world was still wearing hoop earrings and leather wristbands unironically, and nobody had a clue what kind of Hollywood romance drama awaited them.
Then, after Mr. And Mrs. Smith began filming, there came a post-Brangelina world.
2004
Jolie and Pitt starred in Mr. and Mrs. Smith, which began filming in 2004 and began the drama that unraveled over the following year. Although Jolie told The New York Times that she and Pitt fell in love while filming the movie, she also said on The Today Show that Pitt never cheated on Aniston. "I wouldn't be attracted to a man who would cheat on his wife," she said at the time, according to The Washington Post. "To be intimate with a married man, when my own father cheated on my mother, is not something I could forgive."
2005
Pitt and Aniston announced their separation in January 2005, and were officially divorced three months later, according to Cosmopolitan. In March (around the time Aniston filed for divorce), Jolie and Pitt were doing promotional tours for Mr. and Mrs. Smith, but never seemed too close.
In April, Pitt was photographed in Kenya with Jolie and Maddox, making the relationship rumors official. Even after that, however, Jolie and Pitt's representatives denied a relationship, according to Us Weekly. But by July, the two had posed for an article in W Magazine titled "Domestic Bliss."
Jolie adopted Zahara from Ethiopia in July as well, according to POPSUGAR, and later on, the public found out that Pitt filed to adopt both Zahara and Maddox that year. In October, Pitt's divorce from Aniston was finalized.
2006
The couple started the new year with a bang — Jolie confirmed to People that she was pregnant. In May, she gave birth to her and Pitt's first biological child, Shiloh, in Namibia. The couple sold Shiloh's first pictures to Getty, and all proceeds from the sale went to charity, according to Cosmopolitan.
It was only by the end of 2006 (and after they'd had their first baby together) that Pitt and Jolie were finally photographed on the red carpet together.
2007
The number of Jolie-Pitt children increased to four when Jolie adopted Pax from Vietnam in March. "I have four children and caring for them is the most important thing for me at the moment," Jolie told Hello Magazine at the time. "I am very proud and happy to be their mother."
2008
Jolie and Pitt were expecting again — and this time, twins! Jolie flashed a pregnancy bump at other events earlier in the year, but it wasn't until May that an official announcement happened. In July, Knox and Vivienne were born. Pictures were sold to People for $14 million, which went to the Jolie-Pitt Foundation. "It is chaos, but we are managing it and having a wonderful time," Jolie told People.
In October and December respectively, Jolie and Pitt told separate publications that they fell in love while filming Mr. and Mrs. Smith.
2010
Jolie and Pitt sued News of the World in February over divorce allegations published in the paper. "Brad and I love being together," Jolie told Parade in July, noting that both she and Pitt kept their kids away from tabloid fodder about their family.
2012
After Pitt told Ellen DeGeneres in 2011 that their kids were pressuring them to get married, Jolie started wearing an engagement ring in April 2012 and Pitt's manager confirmed the engagement.
2014
Pitt and Jolie were married at their estate in Correns, France, in August, according to People. The world wept tears of joy when it finally saw Jolie's gorgeous, child drawing-covered dress (that couldn't have just been me).
In November, the couple spent their honeymoon in Malta being very productive — they filmed By the Sea, their second movie together, there. "Maintaining a marriage and raising kids is hard work," Jolie told Australian Women's Weekly. "[Brad and I] work really hard at nurturing our family to make sure that everybody is alright and everyone stays connected."
2016
According to Rolling Stone, rumors began in June that Pitt and Jolie were no longer feeling the magic. By September, the famous Hollywood couple called it quits, separating on Sept. 15. Shortly after, Jolie filed for divorce.
"I am very saddened by this, but what matters most now is the wellbeing of our kids," Pitt told CNN on Tuesday. "I kindly ask the press to give them the space they deserve during this challenging time."
Representing Jolie, attorney Robert Offer told Reuters:
This decision was made for the health of the family. She will not be commenting, and asks that the family be given its privacy at this time.
It's been a good 12 years, Brangelina — thanks for the memories. Hopefully Pitt, Jolie, and their six children will ease through this transition smoothly.