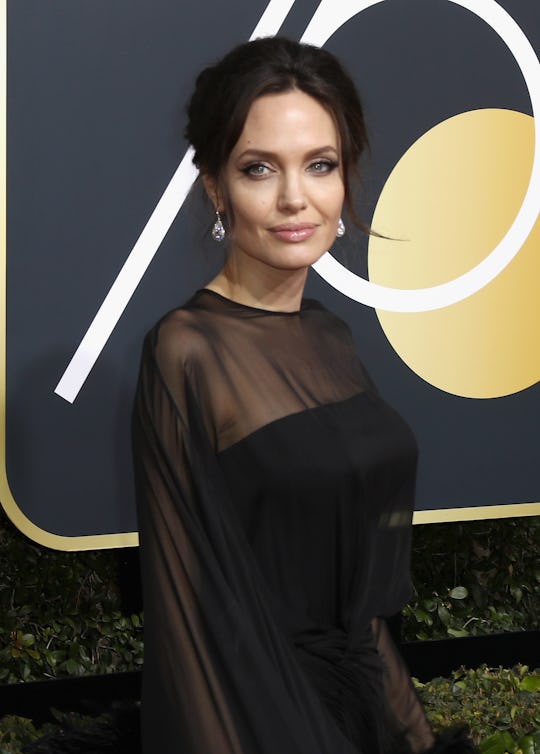 Frederick M. Brown/Getty Images Entertainment/Getty Images
Angelina Jolie Brought Her Son Pax To The Golden Globes & He's So Grown Up
If you're a working mom you know that sometimes, it's impossible to separate work from home. Just look at working moms in Hollywood, like Angelina Jolie, who brought her son Pax to the Golden Globes. And these photos of Pax all grown up will make you feel old AF.
Seriously, if you're anything like me, you probably remember Jolie's son as a little kid, following her around in all the paparazzi photos. But now, Pax is a legitimate teenager and accompanying his mother to award shows. As the second-oldest child of Jolie, Pax is 14, but seems to be void of all that teenage angst and awkwardness. Well, maybe for now.
But, that's beside the point. What's truly amazing is that instead of bringing a handsome man as her date, she chose to bring her son and share a special night just with him. Now, while tabloids and others may choose to take this opportunity to poke fun at Jolie for how many kids she has (even though she only has six), that's not what this story is about.
Pax was adopted in 2007 from Vietnam, and has been a fixture in Jolie's life ever since. Truly, the moment when the mother-son duo walked down the red carpet was definitely one for the ages.
But, in order to truly enjoy this nostalgia, let's back things up a little. For 12 years, the world was blessed with drama, romance, and intrigue as Angelina Jolie and Brad Pitt's love affair dominated the headlines. True, there were rumors that they had hooked up while Pitt was still married to Jennifer Aniston, but Jolie fervently denied them. According to The Washington Post, in speaking to The Today Show at the time (back in 2005), Jolie said,
To be intimate with a married man, when my own father cheated on my mother, is not something I could forgive. I could not look at myself in the morning if I did that. I wouldn't be attracted to a man who would cheat on his wife.
So, after all the drama of Pitt leaving Aniston for Jolie died down (you know, it only took about 10 years), the two had a pretty solid relationship. I mean, after all, they did adopt three kids and have three more the "old fashioned" way. And in case you're confused (listen, I'm right there with you), here's a list of their children:
16-year-old Maddox Chivan Jolie-Pitt, adopted from Cambodia in 2002 by Jolie, then in 2006 by Pitt
14-year-old Pax Thien Jolie-Pitt, whom I've already mentioned
13-year-old Zahara Marley Jolie-Pitt, from Ethiopia, adopted in 2005, then in 2006 by Pitt
Shiloh Nouvel Jolie-Pitt, the 11-year-old
And 9-year-old twins, Knox Léon and Vivienne Marcheline Jolie-Pitt
But then, in September of 2016, things took an unfortunate turn. Jolie and Pitt split, and they announced that they were getting divorced. But, it seems as though the couple is trying to work it out and keep it friendly when it comes to the kids. According to an anonymous source who spoke to People,
Angelina is busy with everything she is doing, including being a super mom to her kids. But she is doing fine and working with Brad on ways to continue their lives so everyone is happy.
And that about catches you up. So, when Jolie arrived on the red carpet with her son in tow, it was a really sweet moment. Unfortunately, some of the commentary about her and her kids wasn't so sweet. According to several tweets, it seems as though the moment Jolie arrived on the red carpet, the jokes just came pouring in.
And viewers were not impressed.
Because honesty, Jolie has six kids, and there's absolutely nothing wrong with that. And that, my friends, is the tea.
Check out Romper's new video series, Romper's Doula Diaries:
Watch full episodes of Romper's Doula Diaries on Facebook Watch.