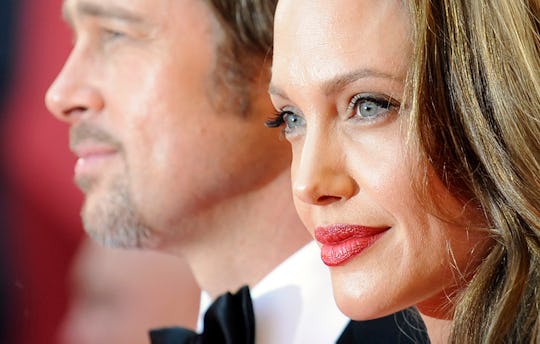 ANNE-CHRISTINE POUJOULAT/AFP/Getty Images
Angelina Jolie Is Heartbreakingly Honest About Her Split From Brad Pitt
Adjusting to single life is tough. When Hollywood's most beloved couple — Angelina Jolie and Brad Pitt — called it quits, the world was devastated. Aside from the public's upset, the two of them lost a major part of their lives after this news was announced. And, it hasn't been easy. During a recent interview, Jolie opened up about her split from Pitt and admitted that she is going through a bit of a hard time right now.
And how could she not be? Yes, when famous couples break up, fans have a tendency to put the focus on themselves (remember all of the "love is dead" tweets that followed the announcement of Chris Pratt and Anna Faris's separation?). But, as public as these relationships may be, it is important to keep in mind that these are real people with real pain — and Jolie reminded us of just that.
Jolie recently spoke with the Sunday Telegraph for an interview and about her life during her separation from Pitt and the struggles associated with it:
It's been difficult. I don't enjoy being single. It's not something I wanted. There's nothing nice about it. It's just hard.
As TMZ reported, Jolie filed for divorce from Pitt this September, citing an alleged incident with their 15-year-old son Maddox. Us Weekly reported that the FBI investigated Pitt for potential child abuse, but he was cleared of all charges.
The actress also shared that appearances can be deceiving. No matter how good she looks during her many public appearances, she is going through a tough time. She explained in the interview:
Sometimes maybe it appears I am pulling it all together, but really, I am just trying to get through my days. Emotionally, it's been a very difficult year, and I have had some other health issues. So my health is something I have to monitor.
She is not the only one that was trying to get along on her own. In an interview with GQ Style, Pitt spoke out about the experience from his side and shared that he and Jolie were doing their best to get along and coparent:
I was really on my back and chained to a system when Child Services was called. And you know, after that, we've been able to work together to sort this out. We're both doing our best. I heard one lawyer say, 'No one wins in court — it's just a matter of who gets hurt worse.' And it seems to be true ... it's just an investment in vitriolic hatred. I just refuse. And fortunately my partner in this agrees. It's just very, very jarring for the kids, to suddenly have their family ripped apart.
Although some of the most recent reports on the relationship between Jolie and Pitt state that they are "back together" after going through counseling, Jolie's interview paints a different picture. As reports suggest, they very well could be trying to have "fresh start" together, but it's still purely speculation.
While the idea of this certainly great news for Brangelina fans, it is important to remember that Jolie and Pitt — along with their kids — are going through an extremely difficult and an emotionally taxing time. And Jolie's heartbreaking honesty was a much-needed reminder.