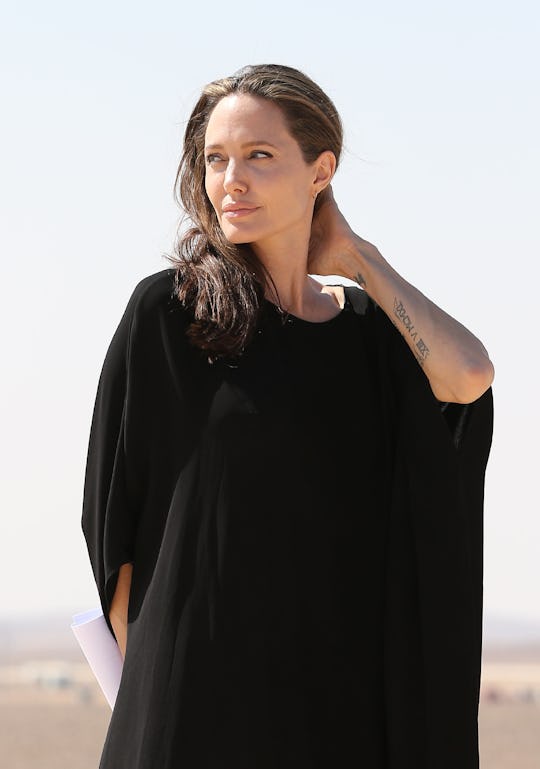 KHALIL MAZRAAWI/AFP/Getty Images
Angelina Jolie Quotes About Divorce That Shed Light On Her Progressive Ideals
On Tuesday, September 20, TMZ broke the news that Angelina Jolie filed for divorce from Brad Pitt. Though the world is still holding its breath waiting for details and information on what went wrong in the marriage, Angelina Jolie's quotes on divorce offer a candid view on the activist's view on how she feels about separating from a partner. Her parents, actor Jon Voight and Marcheline Bertrand, divorced when Jolie was an infant, and Jolie is twice divorced from partners Jonny Lee Miller (whom she was married to from 1996 until 1999), and Billy Bob Thornton (whom she was with from 2000-2003).
In an incredibly candid interview with Elle magazine, Jolie said of her life at the time (the interview was published in June 2014):
I never thought I'd have children, I never thought I'd be in love, I never thought I'd meet the right person. Having come from a broken home—you kind of accept that certain things feel like a fairy tale, and you just don't look for them.
Jolie and Pitt, who've been together for almost 12 years, share six children together: Maddox, Pax, Zahara, Shiloh, and twins Vivienne and Knox. Sources connected to the couple told TMZ that the divorce stems from the "way Brad was parenting" the children, however neither Jolie nor Pitt have confirmed the claim made by sources against Pitt's parenting. Romper reached out to both parties' publicists and attorneys, but had not yet heard back at the time of publication. A statement given to Reuters by Jolie's attorney Robert Offer read: "This decision was made for the health of the family. She will not be commenting, and asks that the family be given its privacy at this time."
In a statement provided to PEOPLE, Pitt said:
I am very saddened by this, but what matters most now is the well being of our kids. I kindly ask the press to give them the space they deserve during this challenging time.
On Friendship:
In a sit-down interview with BuzzFeed on her previous work, Jolie said that one of the things she remembers most about her film Hackers in 1995 (where she met first-husband Jonny Lee Miller), Jolie said noted that love was one of the biggest things that came to mind when thinking of the film. She added,
That's where I met Jonny, who is still a great friend. So I think of him when I think of that. Although, I'm sure the movie looks so ancient now, but we had a lot of fun making that.
On Genuine Care And Concern:
Billy Bob Thornton, speaking with YourTango.com, added that he and Angelina still check-in with each other. Though it isn't exactly a quote straight from Jolie, Thornton's incredibly personal admission shows just how important a role they've each played in the lives on the other, and just how deeply the care and consideration for one another still runs. He told the publication,
Oh of course, yeah. She's amazing, amazing. She's got so much energy and so much goodness in her, and we check in on each other all the time. She makes sure I'm doing okay. I make sure she's doing okay.
On Staying Away From What's "Safe" And "Traditional":
Though it's not directly a quote on divorce, Jolie's prerogative when it comes to living her life offers a wonderfully honest view of how she hopes, plans, and intends to always live her life. She told Elle in 2014 that staying true to herself is one of the foremost guiding principles of her existence, and that's something that factors into everything from work to play to relationships:
I realized that very young—that a life where you don't live to your full potential, or you don't experiment, or you're afraid, or you hesitate, or there are things you know you should do but you just don't get around to them, is a life that I'd be miserable living, and the only way to feel that I'm on the right path is just to be true to myself, whatever that may be, and that tends to come with stepping out of something that's maybe safe or traditional.