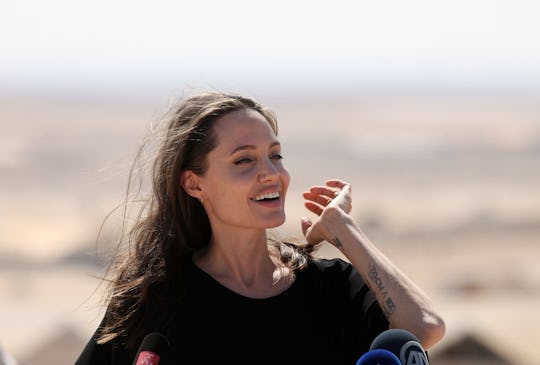 Jordan Pix/Getty Images News/Getty Images
Angelina Jolie Quotes About Her Kids' Heritage & Why She Wants Them To Stay Connected
While she may be the center of attention right now for her divorce from Brad Pitt, Angelina Jolie is more importantly known for her passionate advocacy for global human's rights issues. The actress and mom of six has made sure to instill this passion in her children as well. The actress has three adopted children from different parts of the world — Maddox, from Cambodia, Zahara from Ethiopia, and Pax from Vietnam — and she has made sure her children are always connected to their birth places. Here are some Angelina Jolie quotes about her kids' heritage.
"I feel a deep connection to Cambodia," Jolie told The Associated Press while filming. Cambodia is also where Jolie first realized she wanted to become a mother. "I never thought of myself as a mother," Jolie said. But after playing with Cambodian children "it was suddenly very clear to me that my son was in the country, somewhere."
In 2002, she adopted her first child, Maddox. She told the AP in 2015:
He is turning 14 next week and this is a very important time for him to understand who he is. He is my son but he is also a son of Cambodia. This is the time for our family to understand all that means to him and to us.
Jolie founded the Maddox Jolie-Pitt Foundation, which focuses on programs "to help local families overcome problems associated with poverty in the region and to help preserve the remarkable habitat and wildlife for future generations," she told The Associated Press. "Maddox is already involved in the Foundation and will take over my role when he is older," she said.
Jolie is filming First They Killed My Father: A Daughter of Cambodia Remembers, which is based off of the memoir of Loung Ung, who was trained to be a child soldier in Cambodia. This isn't the first time Jolie will make a film that connects to one of her children's backgrounds; in 2014, Jolie served as executive producer of Difret, the true story of a girl's arranged marriage as a child in Ethiopia.
It's also very important to Jolie that all of her kids are connected to their siblings' backgrounds. In a 2015 interview with Vogue, she said:
We travel often to Asia, Africa, Europe, where they were born. The boys know they're from Southeast Asia, and they have their food and their music and their friends, and they have a pride particular to them. But I want them to be just as interested in the history of their sisters' countries and Mommy's country so we don't start dividing. Instead of taking Z on a special trip [to Ethiopia, where she was adopted] we all go to Africa and we have a great time.
Jolie also told Vanity Fair that all of the kids are learning different languages.
I asked them what languages they wanted to learn and Shiloh is learning Khmai, which is a Cambodian language, Pax is focusing on Vietnamese, Maddox has taken to German and Russian, Zahara is speaking French, Vivienne really wanted to learn Arabic, and Knox is learning sign language.
Jolie has visited Vietnam several times with her family, which was especially important to her son Pax, who Jolie adopted from Ho Chi Minh City in 2007. During one visit to the country, Pax got to meet Aung San Suu Kyi, the state counsellor of Myanmar and the leader of the National League for Democracy.
"Seeing Pax get extra-nervous about which shirt he is going to wear when he meets Aung San Suu Kyi, I get very moved," Jolie told Vogue. "He rightfully doesn't get nervous going to a movie premiere; he gets nervous going to meet her."
It's clear that Jolie will not let her children forget where they came from, and that's a beautiful approach to the kind of life she's provided for them.