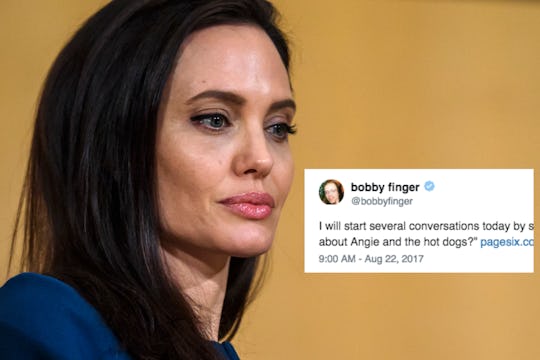 FABRICE COFFRINI/AFP/Getty Images
Damn Right, Angelina Jolie (Reportedly) Left A Target When They Didn't Have Hot Dogs
Lately, the world has been particularly interested in the eating habits of Angelina Jolie and family. People are kind of freaking out (or annoyed because other people are freaking out) because Angelina Jolie reportedly left a Target over hot dogs. Personally, I am very fond of this new Angie. She's relatable AF. A mom's gotta do what a mom's gotta do, am I right?
Some lucky samaritan spotted Jolie in Target with a couple of her kids in toe and reported the entire incident to Page Six. This "spy" told Page Six they saw her and her two daughters Shiloh and Vivienne enter the cafe inside of a Target located in Eagle Rock in Los Angeles on Saturday. Once there, the family was reportedly disappointed to learn that "the location did not serve hot dogs." After this shocking revelation, "The kids were disappointed, so they all left," the spy told Page Six. I sadly do not know if the family ever found their hot dogs.
As usual, Twitter did not disappoint in its response to the news, which Page Six shared as an "EXCLUSIVE," of Jolie's recent jaunt to Target and her subsequent let down by its cafe. Replies to Page Six's tweet have been flooding in with a variety of sentiments. Some tweeters were sympathetic to her cause, while others seemed disinterested in her snack-food plight (I know, right?).
Eric King was specifically impressed by Page Six's overall packaging of the news.
Much of Jolie's news coverage lately has centered around what she and her kids have been eating. Earlier this summer, TMZ reported that Angie was in attendance at a Renaissance festival with her children and was, I quote, "chomping down on what appears to be a turkey leg." Later, she was spotted with a few of her children — Shiloh, Knox, and Vivienne — at Disneyland, where the gang was busy snacking on churros. Despite her recent failed attempt at hot dog acquisition, it is good to know that a woman can still get a decent snack around here.
Some users were quick to point out how relatable Angie's struggle is and have a bit more love for her after hearing this tale. Hungry people need their hot dogs. We've all been there.
A question was raised, however, about the contents of her search. Personally, I'm partial to the personal pan pizzas.
Much to my chagrin, the Page Six spy provided no information on what happened next. Did Angie get her hotdogs? If so, where did she get them? If not, what else did she have to eat? Was there another snack that "appeared to be a turkey leg?" The world wants answers.