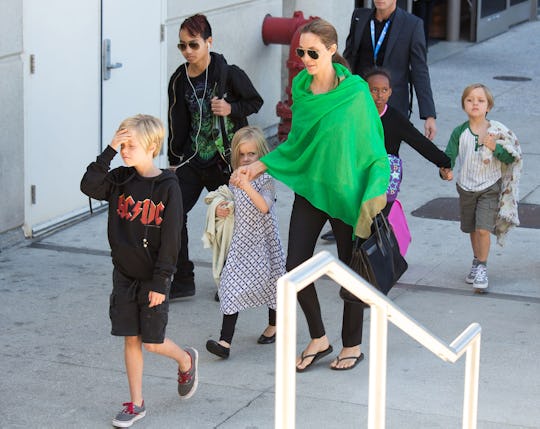 GVK/Bauer-Griffin/GC Images/Getty Images
Angelina Jolie Reveals What Made Her Want To Become A Mother
Although she currently herds a brood that seems to rival the Duggars' in size, actress and director Angelina Jolie didn't always want children. "I never wanted to have a baby," she recently told the Associated Press. But sixteen years ago, all of that changed, according to the New York Daily News. A visit to Cambodia helped Jolie realize she wanted to be a mom.
While filming Lara Croft: Tomb Raider in the country, Jolie was struck by the poverty and oppression she witnessed there. That's what led to her become a United Nations goodwill ambassador. When she returned to Cambodia to visit the killing fields, she said, despite having never even babysat before, she told the Associated Press, according to the Daily News:
That trip triggered my realization of how little I knew and the beginning of my search for that knowledge... It's strange, I never wanted to have a baby. I never wanted to be pregnant. I never babysat. I never thought of myself as a mother. It was suddenly very clear to me that my son was in the country, somewhere.
It was then that she decided to adopt her first child, Maddox, now 14. Jolie and her husband, Brad Pitt, went on to have five more children: Pax, 12; Zahara, 11; Shiloh, 9; and twins Vivienne and Knox, 7. While they can no longer have any more biological children due to Jolie's much-publicized 2015 oophorectomy, the couple is constantly rumored to be planning on adopting more children (lately, the gossip has centered on a Syrian child).
Jolie is now back in Cambodia, filming the upcoming Netflix original movie First They Killed My Father, based on Loung Ung's memoir of the same name. The book details how Ung was trained as a child soldier during the Khmer Rouge regime. Jolie co-wrote the script, and will produce and direct the film, according to The Hollywood Reporter:
I was deeply affected by Loung's book. It deepened forever my understanding of how children experience war and are affected by the emotional memory of it. And it helped me draw closer still to the people of Cambodia, my son's homeland.
Maddox will also reportedly be involved in the movie, which Jolie promises will be "hard to watch, but important to see."
Jolie has long felt a special tie to Cambodia, telling the AP, "When I first came to Cambodia, it changed me." She recently served as president of the Cambodia International Film Festival committee, according to Page Six, and, at that time, released a statement saying that "Cambodia's rich history, long culture and talented people mean it has a huge amount to offer the region and the world." Ung, who has been friends with Jolie since 2001, told THR, "my admiration for Angelina as a woman, a mother, a filmmaker and a humanitarian has only grown. It is with great honor that I entrust my family's story to Angelina to adapt into a film."