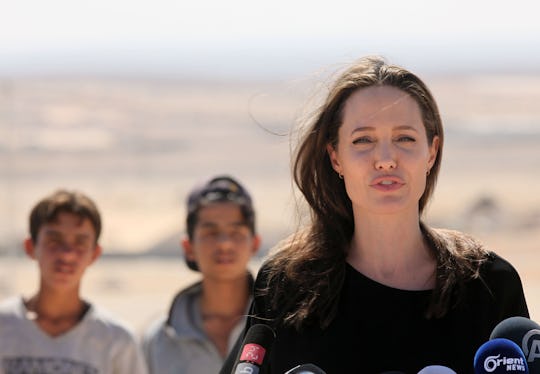 Jordan Pix/Getty Images News/Getty Images
Angelina Jolie Reveals She Was Diagnosed With Bells Palsy
It's been a while since the world heard much from Angelina Jolie about her personal life, but the actress recently opened up for a Vanity Fair cover story, and she shared some surprising details about her personal life. Chief among them? Last year, Angelina Jolie was diagnosed with Bell's palsy, and she said that the health scare wasn't entirely a surprise. "Sometimes women in families put themselves last until it manifests itself in their own health," she told Vanity Fair.
Bell's palsy is a form of temporary facial paralysis that can result from nerve damage, and symptoms can range from slight weakness to complete facial paralysis. The condition affects about 40,000 Americans a year, according to the National Institute of Neurological Disorders and Stroke, but its exact cause remains unknown.
Jolie did not say much about her diagnosis, but said she was fully recovered from the condition thanks to acupuncture. According to the NINDS, therapies such as acupuncture, facial massage, and physical therapy can potentially provide sufferers with a small improvement in nerve function and levels of pain.
Many cases of Bell's palsy will disappear on their own, while others require treatment with certain medications. However, regardless of treatment, most people with Bell's palsy recover fully within three to six months.
The fact that Jolie put herself last for a time wouldn't exactly come as a surprise to many. In September, the mom of six filed for divorce from her husband, Brad Pitt, and she and her children only moved into their newly purchased home recently. Jolie had also been hard at work on the Netflix original First They Killed My Father, which she directed and which was only released earlier this year.
Jolie told Vanity Fair that she had also suffered from hypertension last year, and that she was currently dealing with drier skin and grey hairs. "I can't tell if it's menopause or if it's just been the year I've had," she said. (Jolie entered forced menopause when she had surgery to remove her ovaries in 2015, a procedure done to reduce her risk of cancer.)
Facing health issues, Jolie said in a New York Times op-ed in 2015, certainly isn't easy. "But it is possible to take control and tackle head-on any health issue," she wrote at the time. "You can seek advice, learn about the options and make choices that are right for you. Knowledge is power."
So here's to Jolie and her continued ability to empower women to take care of themselves and speak openly about their health issues. Because the more we know and the more we share, the easier it all becomes to deal with.