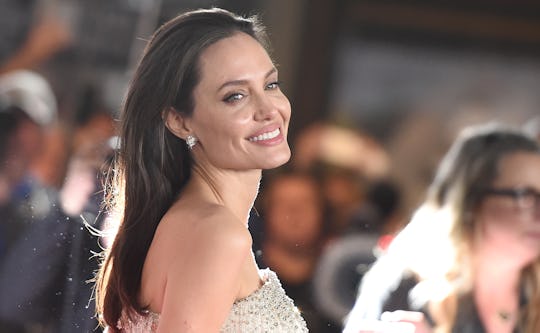 Jason Merritt/Getty Images Entertainment/Getty Images
Angelina Jolie Pays Tribute To Cambodia & Her Son
Angelina Jolie attended the movie premiere for her latest directorial endeavor, an adaptation of the memoir First They Killed My Father by Loung Ung for Netflix, over the weekend. The 41-year-old actress turned director is usually known for keeping her six children relatively out of the spotlight, however, she decided to bring them along for the movie's premiere in Cambodia on Saturday. All of Jolie's kids attended the film opening with her for a very important reason as well: Jolie's oldest son, 15-year-old Maddox, is Cambodian, and she knew it was essential to bring him and honor his home country.
First They Killed My Father is a personal account of a Cambodian child and her family during the Pol Pot regime and the Khmer Rouge years, which resulted in the deaths of some 2 million Cambodian citizens. According to the BBC, Khmer Rogue was responsible for one of the worst mass killings of the 20th Century. It was an extremely dark and tragic time in the country, and Jolie understood the importance of telling this story the right way.
On Saturday, Jolie revealed she was touched that she was entrusted to tell this critical part of Cambodia's history on film. "This film was not made to focus on the horrors of the past," Jolie said at the premiere, "but to celebrate the resilience, kindness and talent of the Cambodian people."
Jolie's passion for the film, as well the country of Cambodia, comes from a very personal place. Her oldest son, Maddox, was adopted from the country in 2002. She said that the film was her "way of saying thank you to Cambodia. "Without Cambodia I may never have become a mother," she said. She went on to add that "part of [her] heart is and will always be" in Cambodia. "Part of this country is always with me: Maddox," she said.
Telling this story and being part of this film's production helped Jolie understand what Maddox's birth parents might have gone through during that same period in Cambodia. But Jolie wasn't the only one who opened up about what the experience meant to them. Maddox addressed the crowd at the premiere as well, telling the audience that it was "a great honor to present this film to all of you, and to stand by my mother and my family."
The 15-year-old helped out on the film's production, as well: Jolie told The Guardian that Maddox "read the script, helped with notes, and was in the production meetings." It must have been an amazing experience for both mother and son to learn more about Maddox's heritage, as well as honor his birth country in such a profound way.
Jolie's five other children were there to show their support as well. Even 10-year-old Shiloh addressed the crowd in the country's native language, telling them that she loves Cambodia.
While no official release date has been announced, First They Killed My Father will premiere on Netflix later this year.