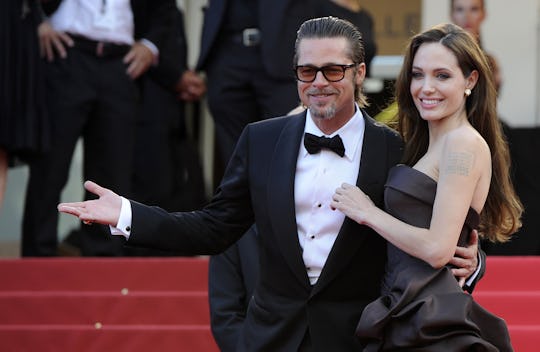 ANNE-CHRISTINE POUJOULAT/AFP/Getty Images
Angelina Jolie's Quotes About Brad Pitt Show They Had A Strong Relationship
In today's news that will totally break your heart, TMZ reported that on Monday, Angelina Jolie filed for divorce from Brad Pitt. Though the pair have only been married since 2014, they've been together since 2004 and have long been considered #couplegoals for both celebrities in the Hollywood world and to us mere mortals. From the outside looking in, Brad and Angelina seemed to be living a wonderful life, each with their own successful careers, and throughout the past decade the public could not get enough of Brad and Angelina's secrets to a happy relationship. (Hey, can you blame us? Like we said: #couplegoals.)
Update: While both parties will undoubtedly want to keep their personal life private during this time, Pitt did release a statement to People and said the following:
This decision was made for the health of the family. She will not be commenting, and asks that the family be given its privacy at this time.
Jolie's attorney, Robert Offer, offered this statement to Reuters:
"This decision was made for the health of the family. She will not be commenting, and asks that the family be given its privacy at this time."
The legal documents filed state that Jolie cited irreconcilable differences as the official reason for their divorce, but longtime fans of Brangelina know that this hasn't always been the case. In fact, their remarks on each other have been nothing but realistic and encouraging tidbits about the power of a strong, healthy relationship. Specifically, Jolie has acknowledged from the beginning that her relationship with Brad didn't complete her life, but rather added to it. "I think we were the last two people who were looking for a relationship. I certainly wasn't. I was quite content to be a single mom," Jolie told People toward the beginning of their romance in 2006. Inspiring, isn't she? Here are more quotes from Angelina herself that prove that although their marriage is coming to an end, they still had an incredibly strong relationship.
On the controversial beginning of their romance:
"We spent a lot of time contemplating and thinking and talking about what we both wanted in life and realized that we wanted very, very similar things," Jolie told People in 2006. "And then we just continued to take time. We remained very, very good friends – with this realization – for a long time... And then life developed in a way where we could be together, where it felt like something we would do, we should do."
On if she and Pitt are staying together for the kids:
"The children certainly tie us together, but a relationship won't hold if it's only about the kids. You also must be really interested in each other and have a really, really wonderful, exciting time together. We do. Brad and I love being together. We enjoy it. We need it, and we always find that special time," Jolie said in an interview with Parade in 2010.
On sharing parenting responsibilities with Pitt:
"When Brad and I decided to have a large family we decided we'd only do it if we could be really hands-on and take the kids with us, seeing them every day," Jolie told The Telegraph in a 2011 interview. "I am always there on weekends, I only ever work a five-day week, and I am often there for breakfast or dinner. When I'm working they come up at lunch. It's a special time for Daddy when Mom works for a few months. And Brad is such a great dad. When I'm working he's putting in the extra dad time, and that's special for their relationship, too."
On Pitt's support of her 2013 voluntary double mastectomy:
"I knew through the surgeries that he was on my side and that this wasn't something where I was gonna feel less of a woman because my husband wasn't gonna let that happen,'' she said to Today in 2015. "To face these issues together and speak about them and talk about what it is to be human, I think can be a beautiful thing."
On her decision to not rush into marriage:
"People have made a lot out of it that we're not, but we both have been married before, and it's very easy to get married, but it's not easy to build a family and be parents together. And maybe we've done it backwards, but we certainly feel married," Jolie told Vanity Fair in 2008.