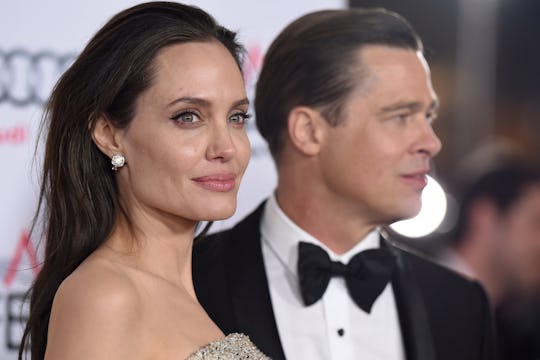 Axelle/Bauer-Griffin/FilmMagic/Getty Images
Angeline Jolie And Brad Pitt Wedding Photos That Will Hit You Square In The Divorce Feels
The free world was shocked Tuesday morning, as word quickly spread of an alleged divorce between Brad Pitt and Angelina Jolie. TMZ reported that, after two years of marriage, Jolie has filed for divorce from Pitt. While the couple has been together since 2004 and have six children together, they have only been married for what many would consider a short amount of time. It's not uncommon to feel attached to certain celebrities, so why not look over Angelina Jolie and Brad Pitt wedding photos that will make this divorce news all the more difficult to digest, right? After all, our society is nothing if not masochistic.
Romper reached out to both Pitt's and Jolie's representatives and attorneys for comment, but have received no response at the time this article was published. A statement given to Reuters by Jolie's attorney Robert Offer read: "This decision was made for the health of the family. She will not be commenting, and asks that the family be given its privacy at this time."
In a statement provided to PEOPLE, Pitt said:
I am very saddened by this, but what matters most now is the well being of our kids. I kindly ask the press to give them the space they deserve during this challenging time.
Like most things that come to an end, the entertainment world seems to be looking at when and where it all began. Of course, (and unless you've lived under a rock since always) most remember how Pitt and Jolie got their start. The two started working together as co-stars on the highly-lucrative movie Mr. & Mrs. Smith, where their set chemistry was reportedly off-the-charts. One problem, of course: Pitt was married to everyone's favorite Rachel, Jennifer Aniston. Whoops?
Their love was scandalized for some time but, like any other breaking news story, people eventually moved on and even learned to love #Brangelina, especially after they started having and adopting their six children.
At the time of their wedding, held back in August of 2014, the couple told People they wanted a "fun and relaxed wedding." Pitt said of the intimate ceremony at the couple's French chateau, "It was important to use that the day was relaxed and full of laughter. It was such a special day to share with our children and a very happy time for our family." Yeah, that one stings, now.
And if you're really feeling masochistic, there's always that gut-wrenching reminder that Jolie wore a Versace wedding gown that sported customized drawings from all six of the couple's children. If you're not drowning in some very real, very overwhelming feels, it's time to check your pulse.
There's no denying that some difficult, painful decisions are ahead for the couple. When there are six children in the midst of a highly-publicized divorce, choices regarding custody and what not can't (it's safe to assume) be easy. Perhaps, in the midst of our feelings regarding the Pitt/Jolie split, that's what we need to remember: this doesn't affect us. Not really. Yes, we are sad and shocked and a slew of other emotions, but we aren't the six children who are watching their parents get divorced. It's important that, while the media circus continues to spin, we remember what really matters and give those that are actually involved, the space, privacy and respect they deserve.