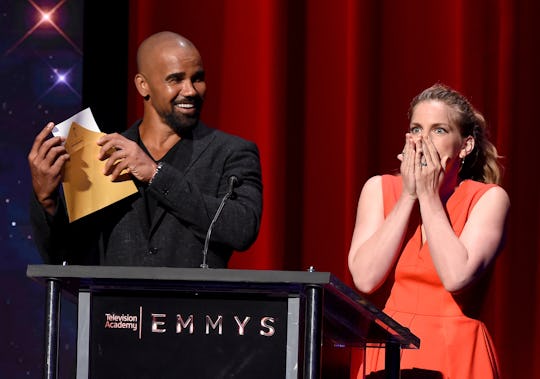 Kevin Winter/Getty Images Entertainment/Getty Images
Anna Chlumsky's Emmy Nomination Was Adorable
Thursday morning Shemar Moore and Anna Chlumsky announced the major nominees for the 2017 Emmy awards. There weren't a lot of surprises, except one. Anna Chlumsky's Emmy nomination is actually the best thing you'll see today. Unlike her perpetually overworked and foul-mouthed character, Chlumsky reacting to her nomination is the purest thing ever.
As the tightly wound aid to Julia Louis-Dreyfus's President Selena Meyer in Veep, Chlumsky's Amy Brookheimer is constantly attempting to minimize PR disasters, trying to fulfill Selena's latest absurd request, or spewing a glorious fountain of creative and highly vivid obscenities at her coworkers and subordinates. It is consistently one of the most hilarious and rewarding performances on TV which is why she has been nominated for Best Supporting Actress five years in a row. Nominees for Best Supporting Actress and Actor are not generally announced at this time, as only the most major awards are announced. However producers decided to make a small exception this year, presumably for the pure joy on Chlumsky's face as she realized that she had been nominated (again) for an Emmy for her work in Veep. She'll be competing against SNL powerhouses Kate McKinnon, Leslie Jones, and Vanessa Bayer, as well as Kathryn Hahn and Judith Light from Transparent.
The adorable moment happened like this. In the middle of announcing the nominees, a producer stopped Moore to hand him another red envelope, which he seemed surprised to receive. Trying to hide it from Chlumsky, he smiled and said, "Oh, this is fun!" So at this point it was pretty clear what was happening, but Chlumsky still seems adorably surprised and happy, with a look on her face as if someone had just handed her a winning lottery ticket.
Moore pointed out that this is Chlumsky's fifth consecutive nomination for this role. Chlumsky then laughed and made a mock "Phew!" motion with her hand. It was just really adorable and it totally brought a smile to my face this morning, which I wasn't aware that Emmy nominations could do.
In case you were unaware, Veep is the best show on television. It has won 12 Emmys and been nominated for 59. I also have a sneaking suspicion that it is the most accurate representation of what really goes on in Washington D.C. I love to see that it keeps getting nominated for Emmys because it truly deserves it, featuring some of the best female comedic actors working in Hollywood today. And it doesn't look like its winning streak is slowing down any time soon.