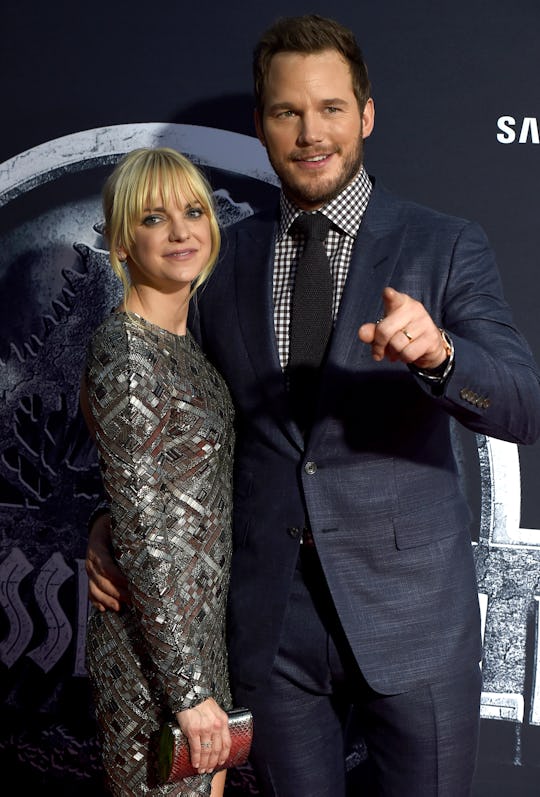 Kevin Winter/Getty Images Entertainment/Getty Images
Anna Faris' Best Parenting Tweets Are Totally Relatable & Will Make You LOL
We all know at least a couple of parents who are constantly praising how perfect their precious child is on social media ("Donatello started potty training at three months"/ "Brunella's finger paintings are going to be displayed at the Louvre"). Anna Faris is not one of those people (and thank god for that). Faris and her equally witty husband Chris Pratt are constantly giving us a honest peek into the real world of parenting; Pit-falls, messes, sass and all. Faris is constantly tweeting about her 3-year-old son Jack's various acts of mischief around the house. Her tweets highlight the kind of relatable #parentingfails that make motherhood, well, downright hysterical sometimes. Here, I've compiled some of Anna Faris' best parenting tweets that are totally relatable to give you a glimpse inside the not-so-glamorous world of celebrity motherhood.
Faris and husband Pratt are total #relationshipgoals. Not only are they smoking hot together, they are the kind of hilarious couple you want to invite to your house for game night. And since they became first-time parents, everyone's been loving their honest, comedic social media posts more.
Faris and Pratt have had to overcome some gnarly parenting obstacles since Jack was born in 2012. The actors even opened up to GQ magazine about their son's premature birth too, after he was delivered nine weeks early. "He was born at three pounds," Faris told the magazine. "And we were told, 'Okay, you need to be prepared for raising a special-needs child.'" While the couple found the news "devastating," they knew they could face any challenges together. "[It] felt like, you know, 'We can do this,'" Faris said. "He's alive," Pratt enthusiastically added.
Now, their little boy is not only totally healthy, only needing to wear eyeglasses—which glasses on a toddler? Adorable—his raucous antics are keeping them entertained.
The proud parents love showing off their bespectacled guy to the world on social media but try to keep things in perspective. From potty-training misses to unintended re-decorating, Faris' tweets about parenting will not only make you laugh out loud, they'll make you say "that's totally me as a mom."
My Job Here Is Done… Right?
Hey, It's Harder Than It Looks
Future-Interior Decorator
Never Gets Old
And The Oscar Goes To…
When They Learn Humor & You Realize You've Created A Monster
Spent An Hour Putting It Together But, Sure, The Box Definitely Is More Interesting
What's Mine Is Mine, What's Yours Is Also Mine
The Silence Before The Storm
This Is Why We Can't Have Nice Things
Uhhh Thanks?
Scrapes Off Cupboard And Attempts To Re-Use
So Many Wet Naps
Martha Stewart, Eat Your Heart Out
The 50% Only You Get To Experience
It's nice to see that even A-List parents like Faris and Pratt suffer the same parenting ups and downs that the rest of us do. Sure, they travel around the world for glamorous parties and photo shoots but they still have to deal with Jack's potty training accidents. Stars: they really are just like us.