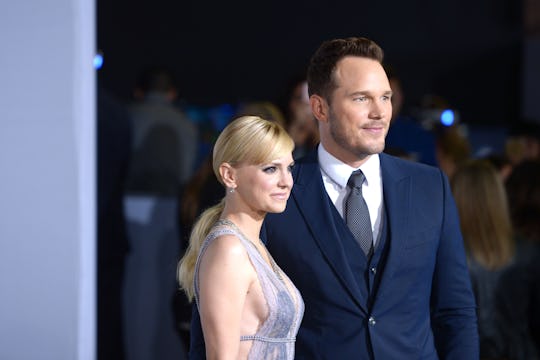 Matt Winkelmeyer/Getty Images Entertainment/Getty Images
Anna Faris Reveals More Details Related To Her Split With Chris Pratt
Let's be honest: celebrity breakups probably shouldn't feel like that big a deal, especially considering the fact that there there are plenty of actual, serious problems to worry about in the world right now. But when Anna Faris and Chris Pratt recently announced their legal separation after eight years of marriage, well, it did feel kind of sad. After all, they'd always seemed to have such a dreamy, picture-perfect relationship, and while it shouldn't be surprising that the reality was far more complex, it felt much more enjoyable to hold them up as the ultimate example of #relationshipgoals and call it a day. But in the latest episode of her podcast, Anna Faris Is Unqualified, Anna Faris revealed details about her split with Chris Pratt, and it sounds like their decision to separation was probably not quite as gossip-worthy as tabloid headlines might want to make it seem.
As a once-beloved celebrity couple, Anna Faris and Chris Pratt have had to endure plenty of rumors about their relationship, and in the wake of their split, plenty of speculation emerged. There were headlines suggesting that Pratt's successful film career was to blame (naturally assuming that Faris had to have been jealous), while others wondered if infidelity was to blame (again, because now Pratt is an in-demand movie star). But when Faris offered up some relationship advice to a caller on her podcast Tuesday, her words seemed pretty telling.
Faris began the episode by thanking her listeners for their support in the wake of the very public split, according to People, before moving on to the actual intended topic — a pre-taped crossover episode with Karen Kilgariff and Georgia Hardstark of the true-crime podcast, My Favorite Murder. But since Faris' podcast focuses mostly on offering relationship advice, she also took a call from a woman looking for some insight into her relationship with her boyfriend. Faris' advice? To remember her worth, and prioritize her own needs. She said,
Don't be afraid of the future. You're young. You're in L.A. There's a lot of amazing people out there. Don't feel afraid to feel your independence if things aren't right.
That's definitely a good idea, but Faris explained that it's something she wasn't always good at. She said,
I made that mistake, I think, a little bit, like 'I'm checking my relationship off the list' and if that would be the final piece of advice I could give you, that would be know your worth, know your independence.
And while Faris' comments likely weren't meant to be viewed specifically as a commentary on her breakup, it definitely sounds like moving on was on her mind. She also told the caller that "life is too short to be in relationships where you feel this isn't fully right or somebody doesn't have your back" — and it's a sentiment that echoed earlier comments she'd made about some of the relationship challenges she and Pratt had faced.
According to USA Today, Faris revealed in an episode earlier this month that it wasn't exactly easy to be married while also being in the public eye, and in a podcast chat with musician Josh Ostrander, Faris said that while she often appears happy and easy-going, that's not always the reality:
I play a character on Mom, I play a character in movies, but I also play a public character. There's definitely a loneliness and, like, an internal element to being a performer.
As for her red carpet appearances, where she and Pratt always seem to look so in love and confident and like they are having a great time? Faris also admitted that what we see isn't exactly who she really is. Faris said,
I laugh loud sometimes — maybe too loud, but it is a public character sometimes. Like, if I have a red carpet thing or whatever, which I'm never comfortable, but I'm always like, guffawing ... and it never feels like me.
Of course, Faris' comments likely don't tell the whole story of why she and Pratt chose to end their relationship, and so far, they've only released one public statement on the matter, in which they asked for privacy for the benefit of their young son. But if nothing else, her words seem to suggest that, actually, their decision to break up probably wasn't a whole lot different from that of any other couple.
While it's true that they definitely had some unique circumstances because of their fame, it sounds like like Faris and Pratt probably just realized that being together was no longer what was best for them. And as much as it might shatter our dream of their perfect celebrity love story, you can't really fault them for that.