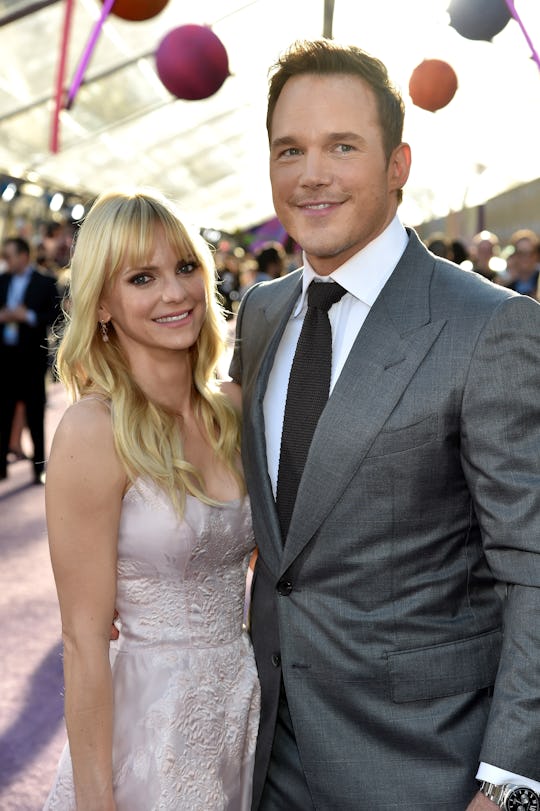 Frazer Harrison/Getty Images Entertainment/Getty Images
Anna Faris Opens Up About Co-Parenting With Chris Pratt After The Split, & It's So Relatable
Moving on after calling it quits with your spouse is never easy, but if you have children together, finding a way to remain on good terms is often the number one priority. And while that might not always be possible for all separated couples, it definitely seems like Anna Faris and Chris Pratt have it figured out: although they may have broken fans hearts by announcing their split in Aug. 2016, Anna Faris opened up about co-parenting with Chris Pratt, and it sounds like, for them, it all comes down to making sure their son knows that their love for him is just as strong as it has always been.
Faris spoke about her and Pratt's post-separation dynamic in a recent interview with E! News, and the Mom actress made it pretty clear that their son's well-being is definitely the primary focus. When asked about how she and Pratt have been able to manage co-parenting 5-year-old Jack, Faris said,
He's surrounded by so much love. And I think that we just constantly reinforce what a great kid he is ... I think that the key is surrounding him with a lot of joy and happiness, which he has a ton of.
Faris's comment shows that she and Pratt are still totally committed to ensuring their son's life has remained as stable and loving as possible despite the big changes that would have happened in his life over the past year. Then again, maintaining as much normalcy for their son has always been their main goal: in the joint statement announcing their separation, the couple emphasized that Jack "has two parents who love him very much," according to E! News, and added that they wanted "to keep this situation as private as possible moving forward." Not long after, People reported that Pratt and Faris had entered into couples therapy to "help with their future coparenting," and though Pratt officially filed for divorce in December, according to Us Weekly, they both requested joint custody.
Although it doesn't look like fans should hold out any hope for a possible future reconciliation based on all these positive reports — according to E! News, Faris is thought to be in a relationship with cinematographer Michael Barrett — it does seem like they've figured out how to remain friends for the sake of their son's well-being.
In October, Faris told People that the ongoing love they seem to have for each other isn't a rouse, or some kind of carefully constructed PR move to protect their image. She said,
It's understandable that people seemed so invested in our happiness together. All I can say about that is, it's all true, that we truly adore each other, and we love each other, I think it still comes through.
In fact, because the two share a child together, Faris said that no matter what they will "always have each other." And even though they may no longer be a couple, Faris said "there is still so much laughter in our lives together, and he is so proud of me, still."
As if to prove that point, Pratt followed through on his promise to pen the foreword to Faris' memoir, Unqualified, even though they were no longer together — and his message to his ex was beautiful. According to MTV, Pratt wrote,
Anna is kind, possibly to a fault. I'm proud to say we each approach most human interactions with politeness, and patience when required. And despite what it may seem, we'll be just fine regardless of what you think of us.
And just in case there was any doubt of how he felt about Faris post-split, Pratt also wrote,
...[More] than anything, Anna deserves this book. I can promise you it will be a great and interesting read. A face-first dive into the mind and person that I spent one amazing decade with, and will, for the rest of my life, amicably co-parent a human.
Honestly, the news of Pratt and Faris's split is still a hard one to accept (does love ever last in Hollywood?!), but it is still so heartwarming to see that they aren't letting their divorce get in the way of doing what's best for the family they created will always share. And as sad as it may be to know they are no longer together, they are setting a really great example of what post-divorce co-parenting can look like.