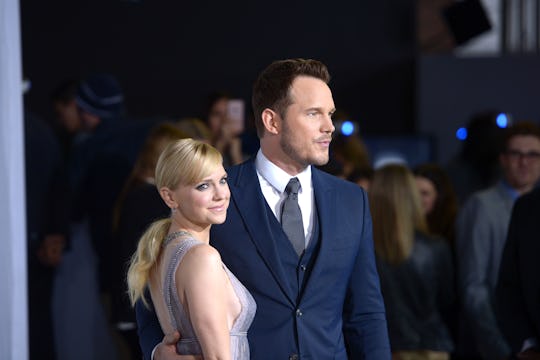 Matt Winkelmeyer/Getty Images Entertainment/Getty Images
Anna Faris Opens Up About How There "Aren't Rules" To Co-Parenting Her Son With Chris Pratt
When Chris Pratt and Anna Faris announced that they were separating last year, hearts broke everywhere. People had so much love for the couple, who seemed so happy together with their 5-year-old son, Jack. But in the past year since their split, Faris and Pratt are showing that even though they're no longer together, their dedication to co-parenting Jack is their top priority. In a new interview with Women's Health, Faris opened up about co-parenting with Pratt and explained how they try to make it work.
It's been a total of eight months since Pratt and Faris released a joint statement in August announcing that they were legally separating, according to CNN. Although in their statement they announced that they had tried to make it work, they noted in their statement that their main concern is for their son, Jack. "Our son has two parents who love him very much and for his sake we want to keep this situation as private as possible moving forward," Pratt posted on his Facebook page in August, according to CNN.
A lot has changed in the time since then, and Pratt and Faris have become model parents for divorce and co-parenting with a young child, which can be seen from their Instagram accounts and interviews that they have given.
And in this new interview, in particular, Faris revealed the secret behind their co-parenting successes. According to People, Faris said:
What Chris and I try to do is communicate openly. We reiterate that there aren't rules to this. We have a lot of love and friendship, and our big goal is to protect Jack.
Divorce isn't easy and can be hard on every single party involved, especially little kids. When kids are added into the mix, things can get a little more complicated — between splitting their time with their mom and dad and traveling from home to home. But Faris seems to have it completely under control and has a loving support system. As she told Women's Health, "I cherish my family, my close friends, my child — that makes the rest worth it."
This is not the first time that Faris has been candid about co-parenting with Pratt. In January, in an interview with E! News, Faris revealed the key to co-parenting with Pratt was to put all of their attention on their son to create a better future for him. "He's surrounded by so much love," Faris said. "We constantly reinforce what a great kid he is." Not only that but Faris added that surrounding her son "with a lot of joy and happiness" was the key to his success.
Therefore, no matter how different her relationship might be with Pratt now, putting forward a happy face for their son is what assures him that everything is OK. And based on Faris' most recent interview, it sounds like things are working out really well for them during this difficult time.
Although Faris' comments about her relationship with Pratt in this interview with Women's Health were very insightful, her thoughts on co-parenting weren't the only thing worth noting. In the same interview, Faris also revealed what she loved the most about being pregnant with Jack so many years ago — being able to eat whatever she wanted. "When I was pregnant I gained 70 pounds!" Faris told Women's Health. "I never enjoyed food more and I didn't care...For the first time in a long time, I had absolutely zero concern about my weight. It felt really good."
But Faris' honesty about co-parenting with Pratt can help so many mothers and fathers in the same situation and looking for advice on how to know what is best for their children. Based on Faris' advice, showering your child with unlimited amounts of love makes all the difference.
Check out Romper's new video series, Bearing The Motherload, where disagreeing parents from different sides of an issue sit down with a mediator and talk about how to support (and not judge) each other's parenting perspectives. New episodes air Mondays on Facebook.