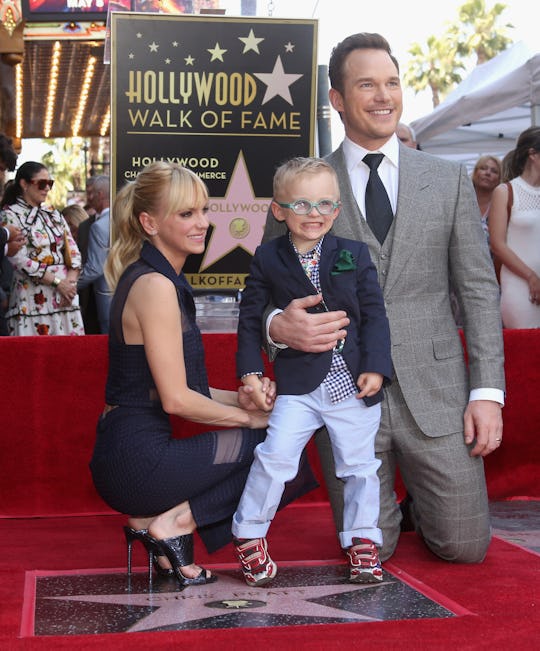 Jesse Grant/Getty Images Entertainment/Getty Images
Anna Faris Opens Up About Her Son's Medical Issues, & It's So Heartbreaking
Sometimes it seems like celebrities lead picture perfect lives and don't get me wrong, they definitely do. Who wouldn't want to walk red carpets, dressed in designer gowns for a living and have fame and riches for days? But often fans don't know what goes on behind closed doors. There is more than meets the eye to these people. Take Anna Faris, for example. She has been more than open about her recent split from ex-husband, Chris Pratt. And now, for the first time, Faris is opening up about her son's medical issues. While it is heartbreaking to hear, her honesty can help so many mothers who have ever gone through the same thing.
Faris has already let fans have a good glimpse into her hilarious life with her podcast, "Anna Faris Is Unqualified," and her recent book, Unqualified. But instead of letting people know about her relationship or other funny life stories, she is getting so real. In her new book, according to People, Faris talks about giving birth to her son, Jack, with Pratt. Jack was born nine weeks prematurely in August 2012, according to Us Weekly and had to spend some time in the NICU.
While Faris has mentioned Jack's birth in interviews in the five years since, she is being completely honest and open about how scary his premature birth was in her new book for the first time. Faris wrote in her book, according to People:
The pediatric neurosurgeon sat Chris and me down to tell us Jack had severe brain bleeding and there was a chance that he could be developmentally disabled. I was in complete shock...So Chris and I did what we could, which was hold hands and hope and face it together.
In an interview with Redbook Magazine in February 2015, according to Entertainment Tonight, Faris revealed that Jack was born two months early and at the time, Faris said that she had been in denial, hoping that he wouldn't be born so soon. It was surely a scary time for Faris and Pratt, unsure of what would happen once their son was healthy. Jack had been three pounds at the time of his birth, according to the Daily Mail. And according to People, doctors were unsure if Jack would have special needs or need cosmetic surgery to correct his eyes until he was about 18 months old. But Jack only had slight vision and leg muscle issues and needed hernia surgery.
But before Faris and Pratt knew that their son would be OK, those moments of uncertainty brought them together because they were forced to stay strong for the sake of their son and themselves. Faris wrote in her book, according to People:
These moments can be hard on couples, but for us it really brought us together. It felt like it was us against the world.
Faris' words can certainly help mothers out there who have gone through similar struggles. 1 out of 10 babies in the United States will be born prematurely, according to the Centers for Disease Control and Prevention. Preterm birth rates have gone down, but it is still unclear what directly causes a baby to be born early, other than the risk factors that can contribute to it. Faris telling her story brings exposure to the fact that this happens all the time. No one should have to feel alone in that struggle.
Now, at 5-years-old, Jack wears glasses due to his vision issues but is a healthy, happy boy, according to People. Faris wrote in her book:
Today, Jack is at a beautiful age. He has some temper tantrums occasionally (did I mention he's 5?) but he's a really good kid and he's happy and delicious and likes cuddles.
Earlier in the summer, Faris told People that watching Jack turn into a "little man" was "so rewarding" and that he has developed a sense of humor much like his own very funny mother and father.
Faris' birth story is heartbreaking to hear, but it is refreshing to know that Jack is doing so well. Her words shed light on premature birth and the scariness of it all.