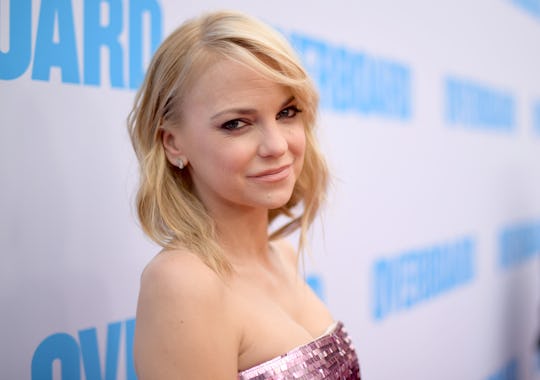 Matt Winkelmeyer/Getty Images Entertainment/Getty Images
Anna Faris Has A Brilliantly Simple Potty Training Hack & Parents, You'll Def Be Trying It
Listen, before you read this article, there's one thing you need to know and it's that Anna Faris is a queen and she can do no wrong. Well, that might be an exaggeration, but you get the point. But, if you don't believe this fact, take a look at exhibit A: Anna Faris' potty training hack she used with her son Jack is honestly the most genius thing that has ever existed and it's something that all mothers of boys can appreciate.
While Faris herself didn't spill the beans on her boy potty training tactic, her Overboard costar, Eva Longoria, did — and honestly, thank goodness for that. Longoria, who is currently expecting a baby boy any day now, made an appearance on The Late Late Show With James Corden on Tuesday night and discussed many things, one of which was her pregnancy. Of course, as any expectant or new mom knows, when people find out that you're pregnant, they overwhelm you with well-meaning advice.
And that's what Faris apparently did when she found out her costar was having a boy. "When you potty train them, she said to put Cheerios in the toilet so they can aim," Longoria explained Faris had told her, according to BuzzFeed.
Go ahead and take a moment to let that sink in. It's a pretty brilliant idea, and as moms of boys know to be true, potty training can be a hell of a ride. And the truth is, potty training looks different for every child, so if you have a little boy, that doesn't mean that the Cheerios trick will work for him. But hey, it's an idea and it doesn't hurt to try, right?
And it's also not the only advice that Faris gave Longoria. Additionally, she also got really real, according to Us Weekly that is:
She knows I'm having a boy, and she was like, "If there's one thing I can tell you, you're going to get peed on changing the diaper."
Again, who hasn't had a boy and been there? It's practically a rite of passage for moms of boys to get peed on when they first change their baby's diaper.
While Longoria might have been happy to get the spot-on advice, Will Ferrell, who was appearing on the The Late Late Show alongside the 43-year-old expectant mama, couldn't contain his laughter at everything parents have to go through, including pee-induced accidents. "Oh my god! That's why they were in the toilet," he joked, according to Us Weekly, after hearing about the Cheerios trick, hinting that he had been potty-trained the same way.
And that's not all Ferrell contributed to the sit-down. While the stars were discussing how emotional Longoria had been lately, Corden hinted that there was one particular song that he knew always made the mom-to-be cry when she heard it. "The Celine [Dion]Titanic song," Longoria explained, according to Billboard. "It always makes me cry... I'm crying already thinking about it!" So, naturally, Ferrell decided to belt it out.
Longoria seemed to enjoy Ferrell's rendition of one of her favorite songs. Well, sort of. She kind of told him that he "butchered that song," according to Billboard. But still, it's the thought that counts.
With all this said, it's clear that Longoria can't wait to become a mom. During another appearance back in April on Jimmy Kimmel Live!, the actress, producer and director told the host that she was at that point in her pregnancy where everything was just getting really unpleasant. "Everything's uncomfortable. It's not just your belly — everything gets bigger. I've never seen my thighs so big, and my boobs, they're in the way of everything. It's hard," she said, according to People. And she's right, and so is Faris, about almost everything. Cheerios included.
Check out Romper's new video series, Bearing The Motherload, where disagreeing parents from different sides of an issue sit down with a mediator and talk about how to support (and not judge) each other's parenting perspectives. New episodes air Mondays on Facebook.