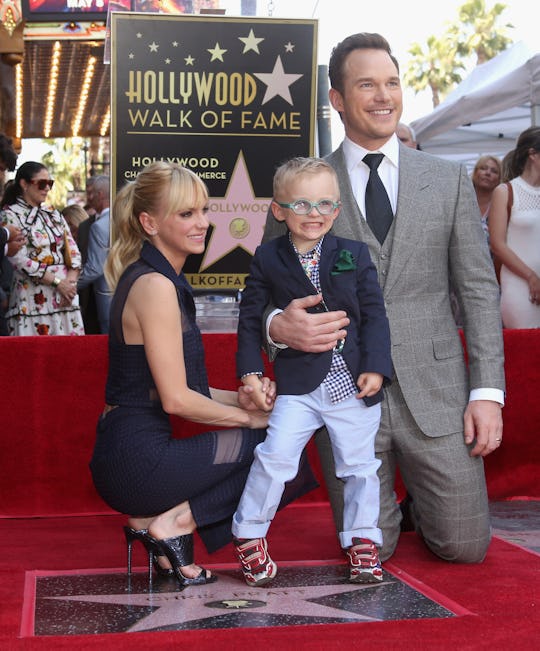 Jesse Grant/Getty Images Entertainment/Getty Images
Anna Faris' Update On Her Divorce With Chris Pratt Will Make You So Happy
It is hard not to get invested in celebrity relationships, especially when those celebrities look so in love. So, when Chris Pratt and Anna Faris announced that they were separating and getting a divorce last year, people were pretty devastated to say the least. But in the months since then, their honesty about their relationship as co-parents to their young son, Jack, has been super helpful to fans of the couple. And the fact that they've been keeping fans updated about their relationship is so sweet, especially for anyone who followed along with their relationship during the early days. Because of this, Faris' update on her divorce with Pratt will make fans happy for them, simply because they seem so happy themselves.
With Mother's Day coming up, being a mom has never been more pertinent. And Faris, who shares 5-year-old Jack with Pratt, will be celebrating this Mother's Day happily. In a new interview with Marie Claire magazine, Faris revealed that she and her son are doing incredibly well, even if headlines or rumors might make it seem otherwise.
Although Pratt might have said in a recent interview with Entertainment Weekly that "divorce sucks," according to TODAY, Faris had a different outlook, telling Marie Claire that the quote read a lot differently than how their divorce actually went and how their relationship currently stands. "I feel it's more dramatic than it is," Faris said. "Chris and I have a great friendship and Jack is so happy and so loved." Simply (and well) stated.
Although divorce does suck — no one wants to fall out of love from their partner and separate, especially when kids are involved — Faris' comments on this is an assurance that her divorce from Pratt was just fine. Even if it could have sucked at times for either party, rest assured that Pratt and Faris are doing great — and thank goodness for that.
But this isn't the first time that Faris has responded to Pratt's comment about divorce. Shortly after those comments were made public in April, Faris had a few things to say in reply during an interview during SiriusXM Hits 1 radio, according to Us Weekly:
We have a great relationship, we really do, and we always have. It's always tough to envision your futures as one thing but I think there's a lot of love. And in what we do there's so much [unpredictability]. I think that it's a lesson learned a little bit in terms of keeping relationships private potentially even though I don't wanna.
Just as much as there is a reason why Pratt and Faris got a divorce, there is a reason why they were together for almost 9 years of marriage, according to People — and, as Faris said, they had a great relationship. Fans have to take Faris' word for it, even if it hurts fans to hear this.
Faris has been repeating these comments since she and Pratt first announced that they were separating in August last year, according to CNN. "We tried hard for a long time, and we're really disappointed," Faris initially said of the split, according to Variety. "Our son has two parents who love him and for his sake we want to keep this situation as private as possible moving forward." Pratt echoed similar sentiments at the time, according to Variety. "We still love each other and will cherish our time together," Pratt said in a statement at the time.
Fans shouldn't have to worry about Pratt and Faris' relationship, because based on her recent update, they're doing well, both as individuals and as co-parents for Jack. Although it's sad when fan favorite celebrity couples split apart from each other, knowing that they're doing well on their own is incredibly reassuring.