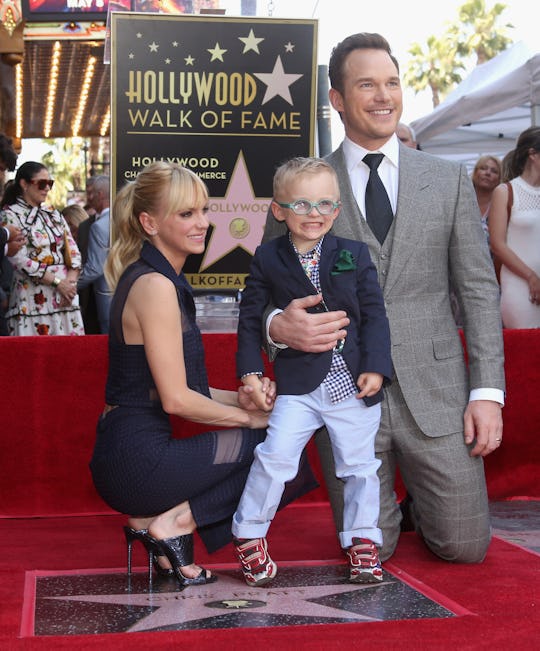 Jesse Grant/Getty Images Entertainment/Getty Images
Anna Faris Definitely Was Not Sad On Her Son's First Day Of School
The first day of school is often a highly-emotional milestone for many parents: not only is it nerve-wracking to think of sending your child off to a completely new environment by themselves all day, there's also something distinctly heartbreaking about watching your *baby* take such an obvious step into big-kid territory. But for some parents, well, it's not so bad at all. It turns out that Anna Faris wasn't sad dropping her son off for his first day of kindergarten, and while she joked that she felt "really guilty that [she] wasn't more anxious" about the whole thing, the truth is that her experience probably isn't all that different from that of most busy, working moms.
Faris explained in an interview with The Talk Tuesday that juggling her acting career with motherhood has meant that kindergarten definitely wasn't her 6-year-old son Jack's first time being away from his mom — for one, he'd already gone to preschool, according to People. But honestly? While working moms can often feel torn about the time they have to spend away from their kids, it sounds like both Faris and Jack had a super stress-free first day of school because they'd already adjusted to being apart. Faris explained that as she and her ex-husband, Chris Pratt, accompanied Jack to school on his first day, they "were trying not to transfer any hint of anxiety" to their son. But they didn't have to worry: Faris said that when they got there, Jack "just ran in and was like, 'Bye guys!'"
From the sounds of it, that worked out pretty well for Faris, too. The Overboard actress explained that, although the teachers seemed to expect the parents to be uneasy, Faris joked, "I felt like, can't we just drop him off? ... I was like, 'I gotta get to work, kid!'" And well, any mom who has had to get their child to daycare or school before work likely knows that feeling. But, because moms can't seem to exist without feeling bad about something, Faris did admit that she felt kind of weird about how not upset she was. She explained that dropping Jack off "was that funny mom guilt feeling, where I feel like this should emotionally tug at me more than it is."
Her honesty, at least, is pretty validating, because the truth is that trying to balance a career with motherhood *is* seriously difficult. And for most women in the United States, it's also a non-negotiable requirement: according to the United States Department of Labor, 70 percent of women with children also work, in an 40 percent of households with children, mothers are the primary or sole income earners. Add in the fact that the United States still lacks a guaranteed paid maternity leave for women, and the particularly-awful statistic that 1 in 4 new moms actually go back to work less than two weeks after giving birth, according to USA Today, and it seems that kindergarten would be far from most children's first time away from mom and dad.
Despite the time away from her son though, Faris recently revealed that she and Jack have one very special way to spend quality time together: they cook! The actress recently told Us Weekly that she grew up cooking with her own mom, and began continuing the tradition with Jack when he was really young. And it sounds like there are lots of benefits. She explained, "[cooking is] an activity that we can do together where I feel really close to him. I've also found that when he helps cook something, he'll eat it."
All in all, Faris sounds like she has a really great relationship with her son, and Jack really does sound confident and well-adjusted. But that doesn't mean that she doesn't face the same stressful aspects of motherhood as the rest of us. In September, Faris told POPSUGAR that getting her son ready for school in the morning is still a total nightmare. She said,
I don't know if this is boys in general because I only have Jack, or maybe it's both genders, but man, the distraction level. It's like, 'Oh, now I want to play with this ribbon' or 'Mom, I need my badge.' I say, 'No, you don't need to wear the sheriff's badge.' I'm always like, 'Come on, we've got to move! We've got to move!' And I imagine that it'll be an ongoing struggle for the rest of my life.
Come to think of it though, that has to be a pretty universal experience for all moms, whether they work outside the home or not. But either way, it's a pretty helpful reminder that there is definitely no single "right" way to be a parent, and that we all experience all kinds of feelings as our kids grow up. So if you also feel totally fine when your child's big first day approaches? At least you know you're in good company.