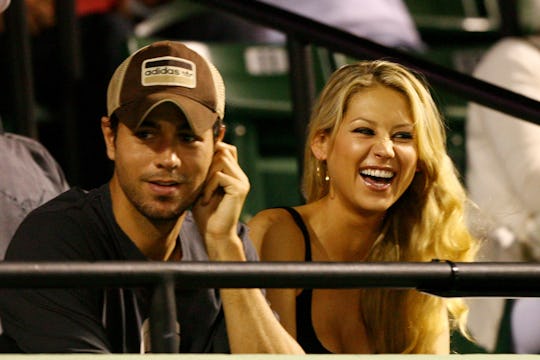 Al Bello/Getty Images Sport/Getty Images
Surprise! Anna Kournikova & Enrique Iglesias Reportedly Just Welcomed Twins
Is it just me, or is there a major celebrity baby boom going on? It seems like every time I turn around, some other actress, singer, or sports star is either revealing a pregnancy or announcing a recent birth. With everyone so focused on grasping at any sign of Khloé Kardashian or Kylie Jenner confirming their alleged pregnancies, though, it seems like one high-profile bun in the oven has managed to slip under the radar. As it turns out, Anna Kournikova and Enrique Iglesias reportedly welcomed twins after keeping the pregnancy a secret, TMZ reported on Monday. And no one suspected a thing!
People reported that Kournikova delivered the couple's first children — a boy and a girl — on Saturday, Dec. 16 in Miami. The proud new parents have allegedly named their bundles of joy Nicholas and Lucy. (Which I'm loving, by the way.) But the question on everyone's mind is how the singer and former professional tennis player managed to keep this exciting news under wraps for Kournikova's entire pregnancy. Taking a low-key step out of the spotlight was key, it seems. As TMZ reported, Kournikova hasn't been sighted much in the past year. In fact, the latest public photo the outlet found of the 36-year-old new mama was from November 2016.
The Daily Mail reported the longtime couple first met back in 2001 during the making of Iglesias' music video for "Escape." (Great, now I have it stuck in my head all over again: "You can run, you can hide, but you can't escape my love.") I guess all of that incredible chemistry in the video wasn't just acting after all.
Their 16-year relationship has remained relatively private, and although the pair hasn't officially tied the knot, the singer once introduced Kournikova as his wife during a concert last year according to The Sun. (Plus, a diamond ring has been spotted on Kournikova's finger, according to E! News. Hmm, something seems fishy, here.) "We're just as happy. There comes a point when you've been with someone for a certain amount of time that I believe that you are like, married," Iglesias' told outlet. "I guess the only difference is that we haven't walked down the aisle."
Upon further investigation into their relationship, it doesn't seem all that surprising that Iglesias and Kournikova succeeded in keeping the pregnancy top secret. That's because their relationship is a mystery in itself. Neither of them, for example, will even admit to being engaged. "Well, we've been together for over eight years," Kournikova responded to being point-blank asked about a giant ring on her wedding finger back in 2010, according to E! News. "So you have to have that trust with each other. You know, it's not easy being together for so long, but I kind of understand him a lot because he's the male version of me and I'm kind of the female version of him."
And public appearances together are few and far between, even if they happen to be at the same place at the same time. "Look, your girlfriend comes in before you and leaves before you, is that a strategy to outsmart your enemy?" a reporter asked Iglesias after a concert last year, according to E! News. "No, she's much more discrete than I am," the singer responded, with a laugh. The reporter then directly asked him if he got married. "Huh? What?" Iglesias said. LOL. Very coy.
Yeah, so I'm gonna go out on a limb and assume the world won't be seeing adorable photos of Iglesias and Kournikova's twins anytime soon. Or ever. (And that's completely okay.) Granted, I'm no celebrity, but I have an incredibly difficult time keeping baby news to myself even for a few weeks after a positive result — let alone for the entire 10-ish months. And if I were to become pregnant with twins, you can bet I'd be shouting it from the rooftops. Kudos to Iglesias and Kournikova for taking charge and keeping your private lives private — and congrats on your new babies!
Check out Romper's new video series, Romper's Doula Diaries:
Watch full episodes of Romper's Doula Diaries on Facebook Watch.