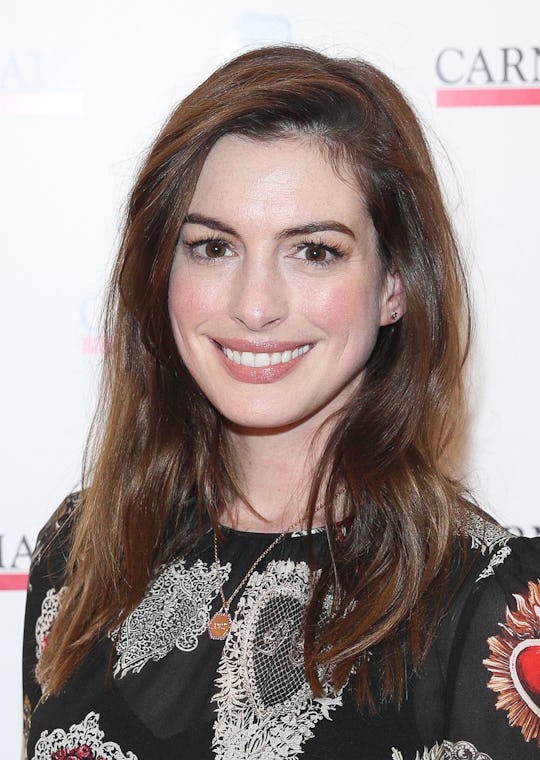 Rob Kim/Getty Images Entertainment/Getty Images
Anne Hathaway Gets Honest About Feeling Insecure In Front Of Her Son, & It's A Must-Read
Either I'm completely and totally out of the loop, or Anne Hathaway has done a really good job of keeping her kid out of the spotlight, because I somehow didn't recall that the actress is a mom. In a recent interview, Anne Hathaway got honest about battling insecurity as a mom, and it's really a must-read for every parent. Because even if she's a Hollywood star, Hathaway still deals with a lot of the issues that every mom — with every background and in every industry — understands all too well.
In 2016, Hathaway welcomed a baby boy with her husband Adam Shulman, according to E! News. Jonathan Rosebanks Shulman was born in March of that year, and a source reportedly said that he was "extremely healthy and is surrounded by friends and family in LA."
But Jonathan was nearly one year old before Hathaway shared a photo of her son on Instagram, according to Vanity Fair. She clearly worked very hard to keep their life quiet, and her son's first year of life very private and away from the glitz and glamour of Hollywood.
But in a Glamour interview published Tuesday, Hathaway specifically brought up her family and how she acts around her son. In particular, she spoke about insecurity, and how she tries to avoid that in front of her son, who she called Johnny. She said, according to Glamour:
How Johnny is going to feel about himself will have so much to do with how I feel about myself in front of him. If I'm feeling insecure, I am very careful that I don't show that.
And she added:
But I also work really hard to acknowledge that place, give room for that place, and then release myself from that place. I'm more loving now, and that includes toward myself.
Worrying about what emotions you're showing or the example that you're setting for your child is something most parents can relate to. In some ways, Hathaway deals with insecurities I for one could never dream of, since she's presented to the world — as an actress and celebrity — in a way that I will never have to deal with. It's enough to make anyone a little self-conscious sometimes, I'm sure.
Hathaway actually spoke a lot about negativity, anger, and other emotions in the Glamour piece as well. And how, for her, "the goal is peace," which a lot of parents certainly strive to gain and maintain in their lives.
Hathaway has, in fact, talked about being a mom to Johnny a few times in the past. For example, during a speech at the United Nations for International Women's Day in 2017, Hathaway spoke about the responsibility of caring for her newborn son. She said, according to Vanity Fair:
I remember the indescribable, and, as I understand it, pretty universal experience of holding my week-old son and feeling my priorities change on a cellular level. I remember experiencing a shift in consciousness that gave me the ability to maintain my love of career and also cherish something else, someone else, so, so much more.
That shift in consciousness is, again, something many parents can relate to. But not many of them have had the opportunity to talk about it on a world stage like Hathaway had a chance to.
As it turns out, the photo of her son that Hathaway finally shared on social media actually featured him watching a video of his mom giving her U.N. speech. What a wonderful way to quietly introduce her little boy to her fans and to the world.
It seems like Hathaway, her husband, and their young son live a quiet, peaceful life together. And while Hathaway still deals with issues like insecurity as a part of that quiet life, she seems determined to model strength, compassion for others, and love to her son instead of being insecure around him and setting that example instead. Parents everywhere, in Hollywood and beyond, are definitely able to do the same thing.