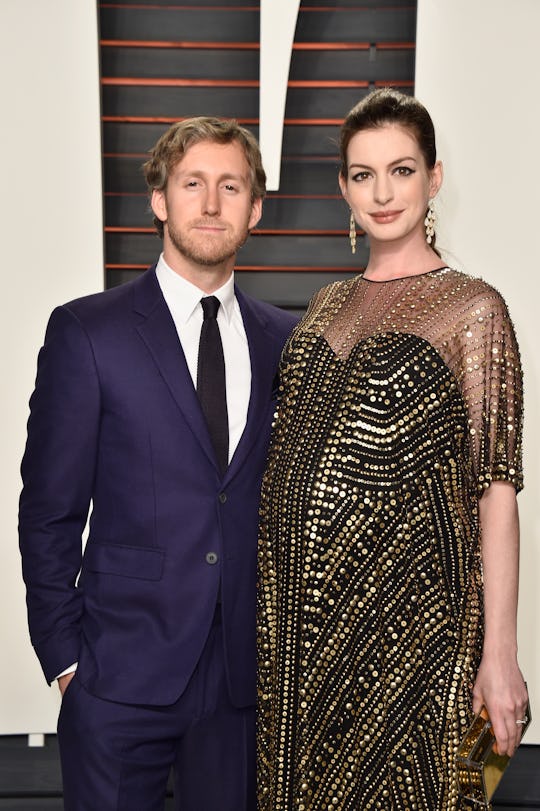 Pascal Le Segretain/Getty Images Entertainment/Getty Images
Anne Hathaway Gives Birth To Son & The World Rejoices
Princess Mia gave birth to a prince! People reported on Thursday evening that Anne Hathaway had given birth to a son, Jonathan Rosebanks Shulman. It's the actress' first child with husband Adam Shulman.
A source close to the Princess Diaries star told E! News, "the baby is extremely healthy and is surrounded by friends and family in L.A." The source added, "Anne and Adam are ecstatic to be parents."
The 33-year old star made no secret of her desire to be a mother in past interviews. During a press conference for the film Rio, Hathaway opened up saying "I'm the only one here who's not a mother. I hope to join the ranks soon." She told Vogue in 2013, "Oh, my God. I want to be a mother, and I anticipate loving my children quite fiercely." She admitted musing about her future mommy-status in the fashion bible, saying, "I think about it all the time, though it's a silly thing to think about because the kind of mother I'll be depends on the kind of children I have. I can't wait to meet them."
The couple revealed the pregnancy in November and, as an insider told E! News, the twosome have spent the last few months "preparing for her baby." The star's husband was particularly supportive of his wife during her pregnancy according to the same insider. They continued, "Adam has been really helpful and is so excited for the baby. Adam and Anne are doing great as a couple and this whole baby process is a bonding experience for them both."
Hathaway and Schulman got married in a private ceremony in 2012. Three years later, the star talked with People about how a relationship changes after marriage. "We both talked about it beforehand, and how it wasn't going to change anything, but something shifts," Hathaway told the magazine. "I didn't realize that I was keeping a part of myself protected, and it's kind of all on the line now. I'm his and he's mine."
The Brokeback Mountain actress maintained a healthy lifestyle throughout her pregnancy with an insider telling E! News, "She is still keeping healthy and active. She is taking it easy though, as much as she can."
While she remained tightlipped during much of her pregnancy, Hathaway posted a glowing Instagram pic of herself with a baby bump in a red bikini on the beach.
The admittedly "out-of-character" move was the actress' attempt to combat unflattering paparazzi photos. She captioned the snap:
So, posting a bikini pic is a little out of character for me, but just now while I was at the beach I noticed I was being photographed. I figure if this kind of photo is going to be out in the world it should at least be an image that makes me happy (and be one that was taken with my consent. And with a filter :)
The new-mom celebrated first-time motherhood with a baby shower on March 5. Guests included Matthew McConaughey's wife Camila Alves McConaughey, who arrived bearing monogrammed gifts for the soon-to-be-born son.
The internet is overjoyed that one of America's sweethearts is now a parent and well-wishes are streaming on Twitter.
A friend of the longtime actress told E! News that the couple are already thinking of adding to their growing brood. "'One baby at a time,' [Hathaway] says," the source quoted Hathaway as saying. "But she would not mind one more after this."
The Les Misérables star famously said her wish "came true" after winning the Academy Award in 2013 and we bet she is thinking the same thing today with the arrival of her bundle of joy.