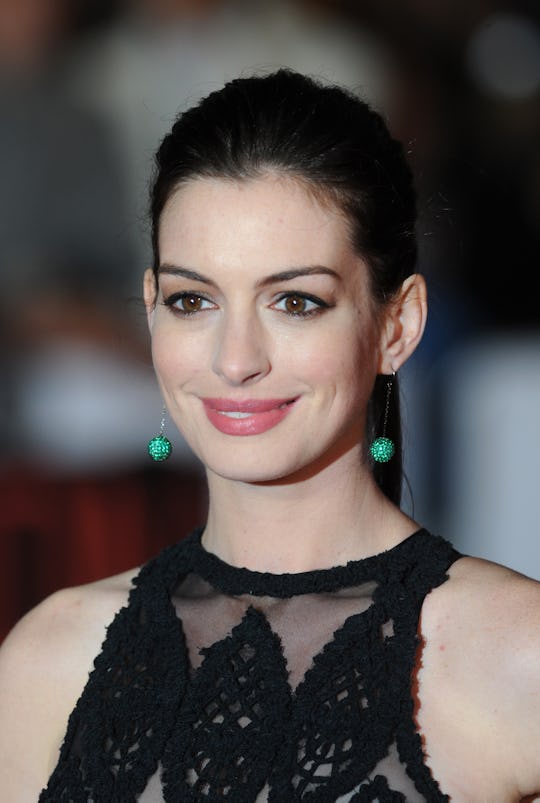 Stuart C. Wilson/Getty
Anne Hathaway Posts First Pregnancy Pic To Instagram & Reminds The Paparazzi They Totally Shouldn't Mess With Her
Paparazzi might have been vying hard for the the latest pic of Anne Hathaway's pregnant belly, but one person who's standing in their way, according to E! News? Uh, Anne Hathaway. The pregnant actress took to Instagram Sunday to post a photo of herself in a bikini on the beach while away on holiday with her husband, Adam Shulman. She explained in the caption that she'd noticed photographers trying to take stealth snaps of her in her bathing suit, and figured that taking the photo herself was the only way to ensure the image was "taken with her consent" — so Hathaway posted it online and shared it directly with her 1.8 million followers.
This move also meant, of course, that she totally killed the photographers' game, as it's unlikely that any long-lens shot of her that day could be more exciting than the one she took of herself. So, in other words, she's a total boss. (And, you know, it also means she got to pose, edit, and add a filter to the pic, which every self-respecting Instagrammer on earth knows is a crucial part of the process. You do you, Annie. You do you!)
Hathaway's Instagram bikini bump shot also marked the couple's first "official" mention of her pregnancy — while the news was widely reported last November, Hathaway and Shulman had remained mum until now. In her post, she wished all her followers a happy New Year:
Happy 2016 to my beautiful Instafriends! So, posting a bikini pic is a little out of character for me, but just now while I was at the beach I noticed I was being photographed. I figure if this kind of photo is going to be out in the world it should at least be an image that makes me happy (and be one that was taken with my consent. And with a filter :) Wishing you love, light and blessings for the year ahead!
Although it's totally exciting news that this incredibly sweet couple are going to be parents, Hathaway's comments are a good reminder that no woman's pregnancy is ever there for public consumption. Just because a pregnancy is physically visible doesn't mean it is any less private or personal for the woman it belongs to — whether they've had some stranger touch their belly at the grocery store, or whether they're trying to relax on the beach without being hounded by photographers.
Celebrity pregnancies might be totally intriguing (why? I'm not quite sure), but, just like any couple anywhere, sharing the news (and the belly photos) should be their choice alone.
Images: Stuart C. Wilson/Getty; annehathaway/Instagram