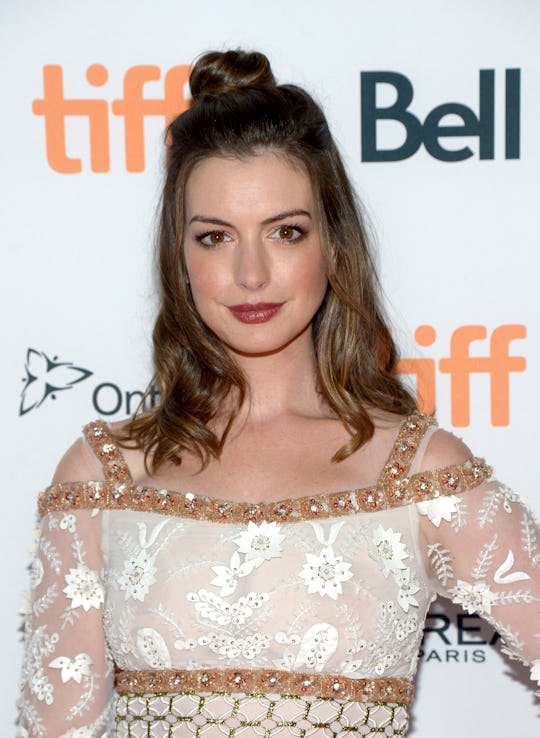 Matt Winkelmeyer/Getty Images Entertainment/Getty Images
Anne Hathaway Quotes About Her Postpartum Body Are Honest & Uplifting
Actress Anne Hathaway may have given birth to her first baby back in March, but she's remained a steadfast force of positivity for mothers ever since. Not only has she steadfastly advocated for affordable childcare and paid parental leave in her role as a Goodwill Ambassador for UN Women, but she's also been open in sharing her own motherhood experience — both good and bad — as a way to inspire other mothers. In fact, Anne Hathaway's quotes about her postpartum body should be required reading for any moms feeling the pressure to look and feel like they did pre-pregnancy.
Even before having children, Hathaway knew that motherhood would be a priority for her. "Oh, my God," she told Vogue in 2012, before having baby Jonathan. "I want to be a mother, and I anticipate loving my children quite fiercely." And as soon as she'd had her son, Hathaway made him a priority.
Hathaway started by stepping out onto the red carpet just a few weeks after giving birth, rocking a beautiful dress and postpartum baby bump, rather than hiding away until she'd exercised her way back to her pre-baby body (as many other celebrities have done). She then continued her streak of honesty and vulnerability by speaking out about her postpartum body and the societal pressure she received to slim down on social media and in interviews. And since I love her for it, here's a few of her best quotes on her postpartum body:
On When She Went Back To The Gym
While speaking to Ellen DeGeneres two months after giving birth, Hathaway shared what her return to the gym had been like. Explaining that she was usually intimidated by the muscular people she saw at her gym, Hathaway told Ellen she felt a change of heart after having Jonathan, saying, "Yeah I work out with 5- pound weights, but I pushed a baby out of my body, I feel good right now. So I don't care what I look like, I feel great."
But when a staring trainer offered to help her out, she was left with a sour taste in her mouth. "I decide that I'm going to let it drop that I'm a new mom," Hathaway told Ellen. "And I'm expecting him to say the thing that you say when someone says that you've had a baby. If somebody says, 'I had a baby 13 years ago,' you say, 'You look great.' That is what you do. That is the etiquette. So I say to this guy, 'I had a baby seven weeks ago.' And he goes, 'Oh, trying to lose the baby weight?'"
After that, she said, she cried a little bit.
That Time She Posted A Picture Of Her New Shorts
In August, Hathaway posted a picture on Instagram of jeans she'd converted into shorts — and not just to prove she's crafty. Beneath the picture, she wrote one of the most beautiful captions I've read in a while:
There is no shame in gaining weight during pregnancy (or ever). There is no shame if it takes longer than you think it will to lose the weight (if you want to lose it at all). There is no shame in finally breaking down and making your own jean shorts because last summer's are just too dang short for this summer's thighs. Bodies change. Bodies grow. Bodies shrink. It's all love (don't let anyone tell you otherwise.) Peace xx #noshame #lovewhatyouhavebeengiven."
When She Was Proud Of Her New Body
"I think shape is an ongoing thing in everybody's life," Hathaway said at an InStyle portrait studio at the Toronto International Film Festival in September. "So, I'm not trying to recapture something that was. I'm going with what it is now."
She continued:
Some things I guess are the same as they were, and other things are a little bit different. I'm just so proud of what the changes signify. So, there's no rush to do anything. I'm so happy being here. ... I find that my workout is really different now because it gave birth. I feel like doing burpees now after having a baby is zero big deal.
When She Took Control Of How She Presented Herself To The World
When Hathaway noticed paparazzi snapping pictures of her on the beach, she took matters into her own hands. "Posting a bikini pic is a little out of character for me, but just now while I was at the beach I noticed I was being photographed," she wrote. "I figure if this kind of photo is going to be out in the world it should at least be an image that makes me happy (and be one that was taken with my consent. And with a filter :) Wishing you love, light and blessings for the year ahead!"
Hathaway has a beautiful way of remaining positive and uplifting, even when recounting a trainer's rude comment at the gym. Hopefully, a few moms out there will be inspired to treat themselves a little more kindly after giving birth — after all, as Hathaway put it, moms have pushed babies out of their bodies, and bodies evolve. It's all part of the journey.