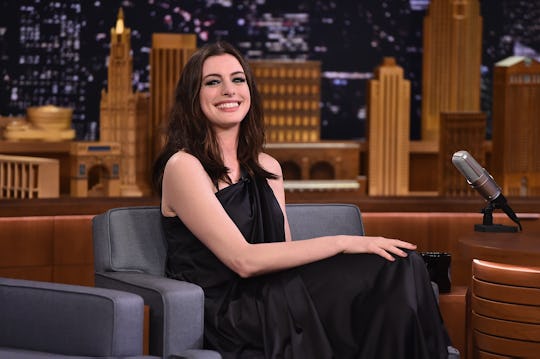 Theo Wargo/Getty Images Entertainment/Getty Images
Anne Hathaway Had An Embarrassing Mom Moment
When you have a little one, taking trips to the park seems like a great idea. But until they are actually old enough to scale the playground solo, more often than not, it just means that mom and dad get stuck having to navigate the jungle gym on their behalf. The problem? Well, that doesn't always end up working out as well as you imagine it will — and it turns out that not even celebs are immune to the embarrassment. Anne Hathaway took her son to the playground recently in New York City, and during an appearance on The Tonight Show With Jimmy Fallon Monday, she admitted her attempt to take him down the slide was probably not her proudest mom moment.
According to Us Weekly, Hathaway told Fallon that earlier that day, she took her 1-year-old son, Jonathan, to a local playground, and thought it would be fun to try out the slide. Joking that the slide itself was "unusual," and looked like "maybe it was built before they had child safety measures in place," Hathaway reasoned that the other children seemed to be moving slowly down the slide, and so it would probably be OK to go on with her son.
But after she started making her way down the slide with Jonathan, Hathaway said she realized that "what [she] hadn't thought about was physics." Unlike the other kids, who seemed to be going down super slowly, Hathaway told Fallon that she and her son actually began speeding up. What's worse? The actress said she realized at that point that the other moms were watching, making her even more self-conscious of the fact that she might be about to completely wipe out on a playground slide with her young child on her lap.
Hathaway joked that all she could think in that moment was, "I must stick this landing" — and impressively, she did. But she admitted that she wasn't feeling nearly as chill on the inside as she looked:
You know, when you almost killed your child, but you didn't? In the inside you're like, 'Everything's OK. Walk it off, walk it off'. Then we went back to the swings and stayed there forever.
The actress' slide experience may have been a bit of a playground fiasco, but at least it made for a pretty hilarious story. And honestly? It's the type of embarrassing mom moment that nearly everyone makes at least once (I know I learned my lesson about seemingly-slow-moving slides the hard way a few times).
Hathaway might not be eager to head down anymore playground equipment anytime soon, but that's not the only thing she's considering giving up. According to The Huffington Post, she likely won't be sharing any more photos of her son on social media. In March, Hathaway posted a photo of her son to Instagram for the first time, and although she didn't show his face in the pic, she told Jezebel that she regretted it almost immediately:
I had never posted a photo of my son, and I decided to post a shot of the back of his head, and almost as soon as I'd done it, I wished that I hadn't. I felt like I had broken some kind of a seal in inviting people into my life.
Hathaway also said that while she originally saw Instagram as something "fun" and "silly," she now thinks "words and pictures are carrying a much greater weight" online. Like many celeb parents, Hathaway has had to figure out what she is comfortable with in terms of sharing her son's life publicly, and from the sounds of it, her attempt at sharing his photo made her realize that, well, she isn't very comfortable at all.
The public may not be privy to any further candid shots of little Jonathan, but of course, that's entirely her call as his mother. Judging from her slide experience though, it doesn't seem that she's shying away from sharing about her life as a mom entirely though. And from the sounds of it, she's got some pretty hilarious stories to tell.