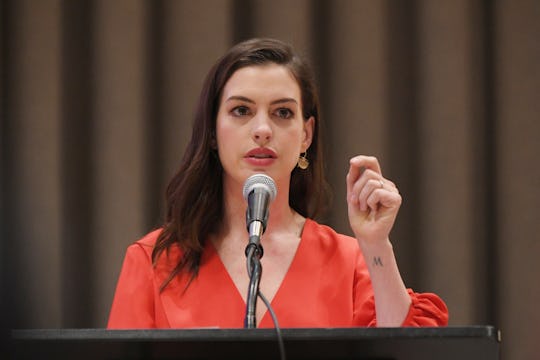 Mike Coppola/Getty Images Entertainment/Getty Images
Anne Hathaway Posts First Photo Of Her Son
It's been almost a year since her baby boy was born and just weeks before his birthday, Anne Hathaway finally shared the first photo of son Jonathan Rosebanks Shulman with her fans on social media. The little boy was dressed in a grey patterned onesie, watching his mom speak on a laptop from home (Hathaway was speaking at the U.N. at the time). All told, it was a pretty empowering photo, to say the least.
"JRS watching Mommy give her speech at the UN yesterday," the Oscar-winning mom captioned the photo on Instagram, adding list of hastags: #forourboys #forourgirls, #forthefuture, #loveislove, #parentsareparents, #paidparental, #iwd, #ppl, @unwomen."
On March 8 — International Women's Day — Hathaway, a U.N. Goodwill Ambassador, gave a speech at the U.N. advocating for paid parental leave amid the many limitations of the United States' policy. Throughout the speech, the 34-year-old mom, who wore a symbolically red dress, talked about being a first time mom herself and the economic struggles many families face after welcoming a child. She went on to address how traditional gender roles are damaging to society and how paid parental leave can boost female empowerment and give fathers the opportunity to be more involved.
"The assumption and common practice that women and girls look after the home and the family is a stubborn and very real stereotype that not only discriminates against women, but limits men's participation and connection with the family," Hathaway said on Wednesday. "The deeper into the issue of paid parental leave I go, the clearer I see the connection between persisting barriers to women's full equality and empowerment, and the need to redefine, and in some cases de-stigmatize, men's role as caregivers. In other words, to liberate women, we need to liberate men."
Hathaway's speech was powerfully thought-provoking. And just in case you weren't already obsessed, here's her little boy learning from his incredible role model mom:
Hathaway welcomed little Jonathan on March 24 last year with her husband Adam Shulman and has been an advocate for the U.N. focusing on paid parental leave since June 2016. And that's a good thing, because it's a cause that drastically needs change.
According to the Bureau of Labor Statistics, women in the United States can receive 12 weeks of unpaid leave (paid leave is not mandated) and men aren't entitled to anything. "Companies sometimes offer maternity pay, however, only 14 percent of Americans have access to paid family leave," the Huffington Post reported.
"My mother had to choose between a career and raising three children, a choice that left her unpaid and under-appreciated as a homemaker because there just wasn't support for both paths," Hathaway said, adding that she wasn't able to see her father very much as his work was her family's sole source of income.
The United States has a lot of work to do to attain an acceptable parental leave policy so that parents can give their children the attention and care they need.
Although Hathaway wasn't personally (or financially) tasked with this dilemma herself after she gave birth to little Jonathan, it's comforting and encouraging that she has used her platform of fame to fight for much-needed change. And a cute baby always helps the cause.